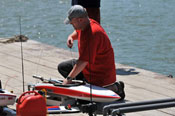 Our coverage of the yearly European meet in Heilbronn...
Heilbronn 2008-07-26
In February this year Marc Levac asked me if we wanted to do a raffle, just fort he European side of the big pond. The reason was that we didn't raise the money we had expected with the 2008 calendar sales and Marc wanted to give something for us Europeans. So the idea was born to raffle a brand new Zenoah engine here in Europe and use the funds to sponsor the biggest European meeting in Heilbronn.
Of course I said yes! This was a chance to get MGB.com better known here. Marc shipped an engine to me and I started a raffle.
The idea was to sell just 20 tickets for 15 Euro (approx. 20 USD) each. Since raffles like this are not widely used here I had to check ahead of time if a raffle could cause legal problems here (German laws are sometimes difficult...) The admin of the German board and the president of the hosted club in Heilbronn gave the go-ahead and so I started the raffle.
In less than 2 hours all tickets were sold! This was amazing because we had no experience with such a raffle here. When the tickets were sold-out I started the drawing.
I made 20 tickets, each with the name of the participants. My son had to draw the winner's ticket. We blindfolded him, put all tickets into a bag and he did the drawing. And the winner was:  Mark Viveen from the Netherlands!
I handed over the engine to Mark Viveen in Heilbronn. The funds we raised were used to offer free drinks on Friday night to all participants of this big event. The club served cold soft drinks and beer. For the ladies they offered wine and sparkling wine, so we had drinks for everyone.
We have to say: THANK YOU MODELGASBOATS.COM!
This was not the only newsworthy part of Heilbronn. Heilbronn is not a competition; it is a big meeting for all the sport boaters in
Europe. It began on Wednesday July 9th and ended on Sunday, the 13th. Five days of fun, boating, party, meeting old friends, making new friends and so on and so on...
The official part of this meeting began on Friday. From this time we had strict rules about the handling of the radios (an extra tent for all transmitters), a retrieve boat with out border, and a pit boss at the drivers' area. Wednesday and Thursday we had just open water; all drivers had to check their frequencies at the drivers' area and we had only one small dinghy with a paddle to rescue our boats.

During the whole meeting we had absolutely no trouble with radio frequencies. Why? Lots or racers are using now the DSM radios such as the FASST system and they work well. No problems when 10 or more boaters have their 2.4 GHZ radios in use.

For the weekend there was one real highlight: The turbine powered boats! Many modelers here in Germany push these kinds of engines and they found a perfect match for the engines: Jet Cat! Of course there is also another name that is synonymous with developing and testing the turbines, making the marine version of these engines reliable: Chris Tonn! His knowledge of boat design, boat building, machining, constructing and developing is hard to beat. You will find his ideas in all turbine powered boats, so he is the real Jet man.

During the Siesta time on Thursday and Friday (no boats on water between 12 and 2pm) we were bored so we decided to have a little contest; the WET-ASS Contest.

What does this mean? Easy: Take a super small dinghy, a paddle some crazy guys and mix it all up! They had to try to paddle to the other side of the pond and back under time...The winner was Nils Alma from the Netherlands. The contest was lots of fun.

All together it was a big event, a great party...and boating? Yes we also did a lot of boating between all the other activities there.

Heilbronn, see you next year!

André

Races/Events Article...