Tech Article ...by Len Williams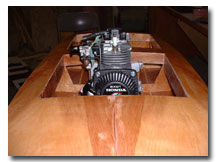 Part 2 of the 4-stroke series...
In the first installment , we looked at the basic features of the Honda 4 Stroke OHV engine for it's application in RC gas boating. We've outlined some ideas and set some goals for making the Honda a working power choice. There are boats
out there running Honda motors, lessons are being learned and experience gained. I'll share some details of some initial thoughts that didn't go as well as hoped for, but that is actually turning out to be a good thing.
I received these photos from Thomas Hasenbein of Germany running a Honda GX31 in this Cracker Box. It's good to see others are looking at this motor as a viable power plant. I give Thomas two thumbs up for creativity on his crew!
Here's another one of Thomas' beautiful boats. This is a 46" Cayman from MHZ, and is powered with the Honda GX25 OHC engine with dual exhaust. Obviously with a clutch, this is at idle with the bubbling of the duals!
Thomas informs me Rennleitung, means RACE-DIRECTOR. On the model, he has working lights on the light bar. He's done a wonderful job on this one. It's not a blazing fast boat but he tells me it's a lot of fun. He is having the same problem we are, finding the right prop to get the power to the water.
I want to recognize a key ally to this project and it's success, Bob Decortin of Helikon Inc, in Connecticut. I would be comfortable in saying Bob has more knowledge and insight to the Honda powering a RC boat than most at this early stage. Bob ran a GPS and logged all his information for the year totaling over 250 miles in 5 months of testing many different parts, pieces and configurations. Bob has the skills and resources to modify, manufacture and re-create almost any part of almost any thing - so for him, the Honda is not a huge challenge, but a challenge all the same.
A lot of questions have been asked about comparisons to Zenoah's and speeds. Don't begin to think we are talking apples to apples here. This idea revolves around evolution and new things. First we make it work, and then we make it work well; or find out that it won't work at all.
I think it's fair to say, this Honda will never be a Zenoah; it will never power a modified class boat to victory; will never make six horsepower, or turn 18k rpm. What it will do is provide the RC boat enthusiast with an economical power choice and a little something different. And the power is coming on! Don't forget, lots of parts to tinker with! And this is one durable and simple engine.
ON to the project!
Like I said in the first installment, this is an adventure; we don't know what the outcome will be at this point! Crazy isn't it?
I've recently made a bit of progress on a test hull for my Honda powered boat, a plans built cracker box from Dunlap. I will get this finished over the winter and show the results in upcoming issues of ModelGasBoats.com This will be a starting point as a test platform for my Honda.
I mentioned at the top of this article that I had some ideas that seemed like requirements in the beginning. One idea was "The Overdrive"; I was hung-up on it but after several designs, and much testing, the results are in. It's not an optimized proposition, and it will only turn so much pitch at a certain rate. No matter how hard you try there is a wall there, "you have to give something to receive something". Bob has built some overdrive units and tested them with interesting results. Ultimately, we have to get the prop to match the power band of the motor and use everything this engine has to offer to it's greatest advantage. It turns out that parasitic loss through an O.D., however slight, did not allow the unit to provide the desired results. This was not unexpected but it had to be tried and proven one way or another. It wasn't a failure - it does work well. The differences is the need to change to smaller props.
We are coming to a consensus of direct drive once again. Full circle we go!
This is the test boat that's done all of the hard work with theoverdrive unit, that has since been removed, and testing resumed with direct drive. Bob has one more O.D. unit configuration to try, but no date on when this unit will be tested. Unfortunately we deal with frozen water through winter, so no testing for a while.
3 gear idler arrangement, with a choice of ratios. High quality gear-sets of the right dimensions and materials are difficult to find and costly at best.
That brings us to where we are today. Going back to the direct drive and working with slight engine modifications and props. Thought I'd throw this in also; if someone is looking for a clutch setup, you can take advantage of the durable and long lasting weed whacker type units. The Honda has the standard implement bolt pattern. Here it is with a Stihl clutch attached…
Otherwise, a drive can be made for either square drive or round (clamping) collet. It's a simple setup that holds the flywheel on also. Speaking of flywheels, here's a basic mod that I think most will want to do; turn-down the fins to the counterweights. Bob did a little more than one would normally do in these shots.
During testing, turning the fins down to the counter weights resulted in a 300 RPM gain. It hasn't been tested with the additional removal yet. It los
t 1.4 oz in weight, but lost a significant portion to the air drag. In my application the cylinder will get plenty of air in the Cracker Box so I've modified the cases and removed all the shrouding. A custom exhaust will follow. Here's a look at the mods needed to get a good fit! And this is between 5" rails!
Unlike 2 stroke motors, 4 cycles don't need elaborate tuned pipes and don't take up the same space. You can accomplish those cool functioning dual or quad-exhaust setups with great results. Low noise, scale looks and sounds! Speaking of sounds, there are downloadable wav files of the test boat in action! Listen to them closely, I think you'll find the lump~lump of a 4-cycle interesting.
So far carburetion has been a problem, a big problem. This engine is a monster for air and fuel. The more modifications you make, the more air and fuel it will take. The more fuel and air we stuff in it, the more power it makes and the meaner it gets! At one point the metering jet was completely removed from a wyj266 and it still leaned on top.
To give you an idea of Bob's capabilities, he popped these out one afternoon when I said Bob; we have to drill these out! Turns out he didn't need them! Bigger carb! Help!
These needles have a metering hole of .026 that can be drilled to desired bore
We've found the stock air cleaner setup is too restrictive in flow. This engine likes to breath! And it's hard to imagine it breathing through the little valves.
Modifications that have worked have been some basic smoothing of the ports on intake and exhaust - mainly burr cleanup. The chambers are plenty large for the valve sizes. The cam is a different story. Bob has made several profiles and is close to finding a good combination of torque and rpm when doing analysis of GPS/tach and prop changes. Recording this information to a spread sheet, formating the answers, and the information jumps right out at you!
Here are a couple shots of the cams. Now the first thing you're going to think is, "That's weird!?!" When I saw it the first time, I went NO WAY! But here again, testing has proven that Honda knows what they are doing. What is really nice about this cam design is how simple it is to change cams! Bob is working on a coil bracket that will make it even easier, and allow spark timing adjustment that can be set without having to adjust it again after making cam changes.
The yellowish cam has 15 hours running time, the white one has one hour on it, and it shares the same yellow destiny.
Here's a look at the valves…
Specs on the valves are as follows:
steel
Intake: .53 dia.
stem dia.: .157
overall length: 1.715
groove dia.: .092
weight: 6 grams
Exhaust: .472 dia.
stem dia.: .157
overall length: 1.73
groove dia.: .092
weight: 5.8 grams
valve and retainer
And here's a look at the pushrods with some technical data…
.098 dia.
length over-all: 2.325
full radius each end
steel: heat treated
weight: 4.5 grams pair
Stock steel rods on the left, Titanium units on the right
This is a description on the pushrods and part of an idea we were chasing. So far the Titanium pushrods have shown no advantage other than raising the property value ($$) of the space the Honda takes up! Bob describes what he did:
"Titanium:.125 dia. center-less ground 3.5 grams a pair; lighter than stock by .5 grams each or 1 gram for the pair - not much but 22% is 22%! Turned down on ends for angular clearance and spherical radius each end, without turning down ends you would have to open sockets on rocker and cam followers, to do rocker end would require larger adjusting screw adding weight back on; possible to open socket on cam follower, but I think this will work **it worked**. It's a drop in, no other work needed, but the amount of rpm increase remains to be seen; maybe combined with other weight savings, could add up."
This is another one of those things that you expect to make a difference but hasn't panned out yet!
So here is where I wrap up for this installment on the Four Stroke Power series. I'm going to leave you with one other photo that shows the accomplishments so far - and this is with problems! But I know this is the big question you all have, so lets keep things in perspective; I think we might be on to something! And these numbers are sure to improve with time and education!
Still have a lot of prop work to do but it's showing promise.
Thanks for watching! - Len
Special thanks to:
Robert Decortin
Larry Broman
Thomas Has
Jim Maples
Denny Scheckler
Here are .mp3 audio samples of the 4 stroke motor in action: