Scratch/Custom Builds Article...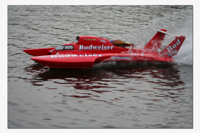 Budweiser T-4 Turbine Powered Hydro. An interview with owner/builder Peter Muller. Includes a video of the hydro in action....a must see!
I had the pleasure of meeting Peter Muller at the 2007 Orlando Winter Nationals. Peter had several nice boats for the races, but this article is about another boat he had brought along (mostly for show since it could not be run at this event)…a Scale Miss Budweiser T-4 Turbine Powered Hydroplane! What a beautiful boat! I was so impressed by this boat that I asked Peter if I could do a little interview and get some details on project.
First a little bit of history on the real Miss Budweiser T-4 Hydroplane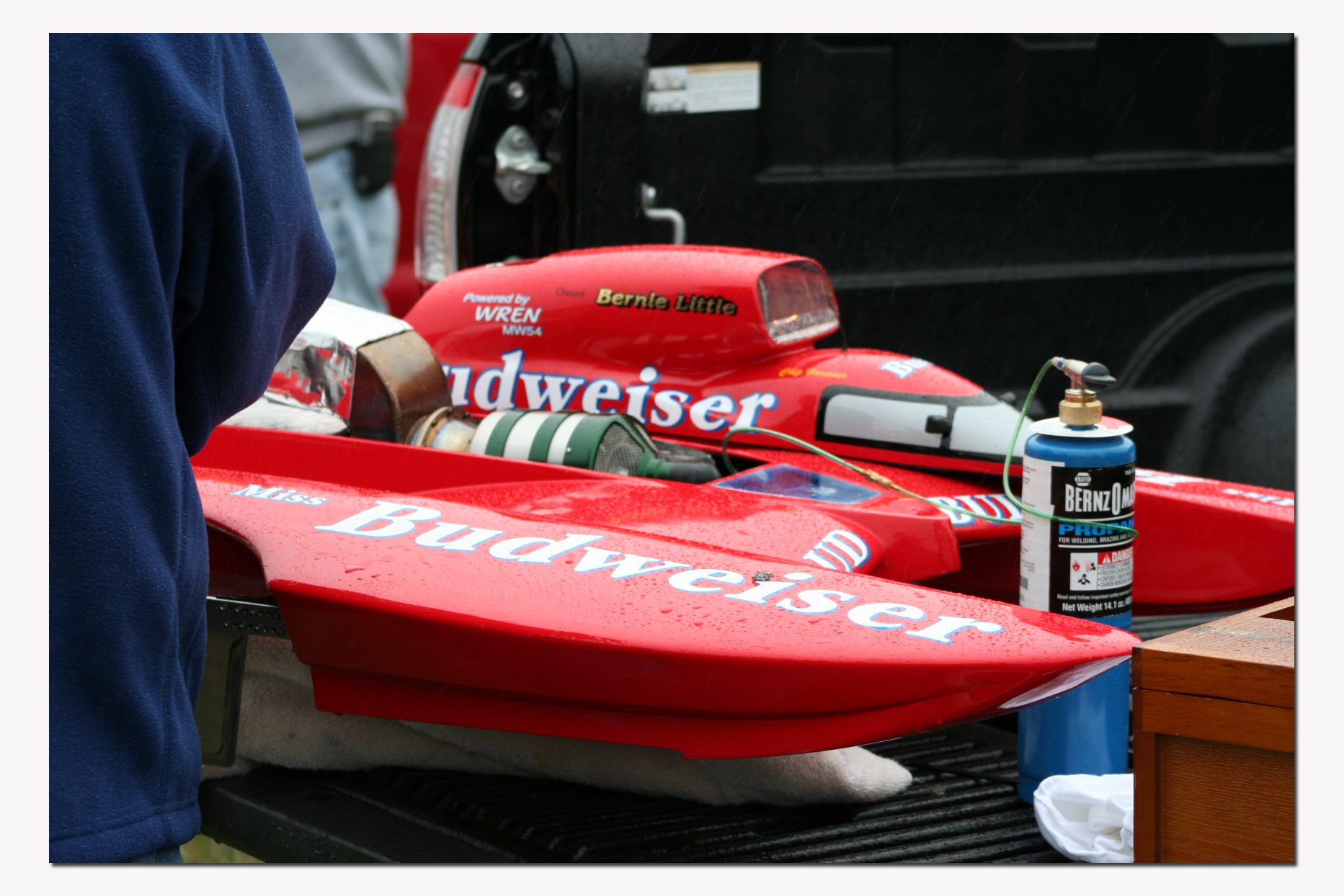 Roger Newton was also at the Nationals and I had the pleasure of meeting him also. He detailed the history of the original boat.
The 1994 Miss Budweiser T-4 was powered by a 3000 hp+ Lycoming L-7 turbine engine from a Chinook helicopter. The open tunnel was designed to help prevent blow-overs but ended up scrubbing speed in the turns. Also due to weight restrictions and this design being heavier ,the boat was redesigned with a full tunnel. The boat was a display boat from 1995-2005. It returned to the racing circuit to win the 2006 Gold Cup as the U-37 Miss Beacon Plumbing piloted by driver Jean Theoret of Montreal Canada. The boat is currently owned by Billy Schumacher.
Peter Muller…
Peter's background includes being a Formula-1 crew chief working with the Unser and Andretti families. He was also employed doing R&D work for Mercedes. Today Peter's passion is restoring old cars, particularly Auburn, Chrysler and Colt. Of course he also builds and races R/C boats!
Interview…
MGB: Can you give a little bit of history on this project and how it all started?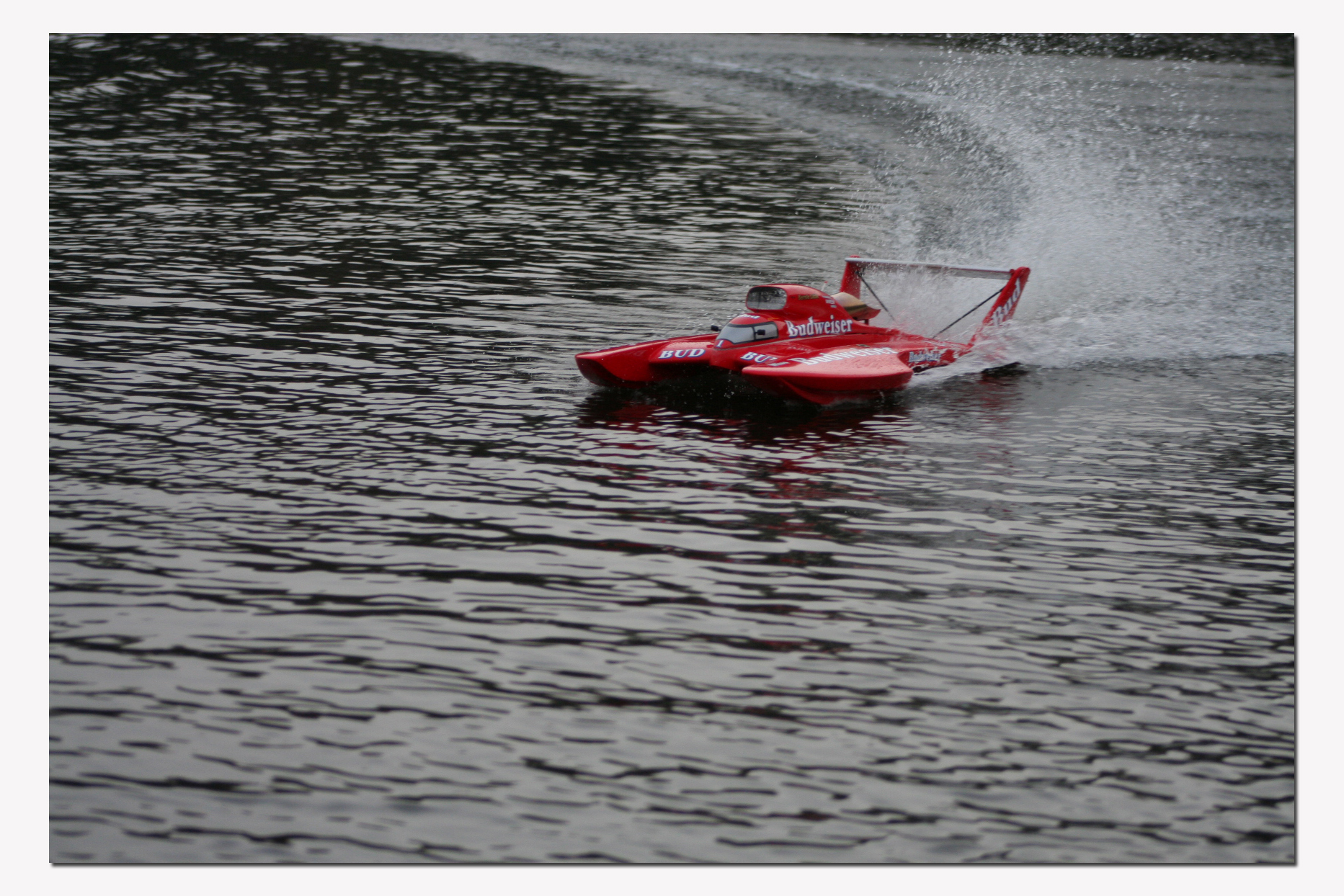 Peter: The project all started about 10 years ago. The primary reason to do it was the technical challenge…wanting to prove that it could be done! The original engine was a turbine for airplanes. This was not working out because of the fact that it was a single stage turbine operating at 165,000 RPM.
About 3 years ago I decided to use a turbine made for helicopters. This is a WREN dual stage turbine. The first stage operates at 155,000 RPM and the second stage at 60,000 RPM. Using a 2:1 reduction gearbox that I designed, we now get 30,000 RPM at the prop. The turbine operates on kerosene.
MGB: Can you give us some details on the hull itself?
Peter: The hull is 53 inches long and 28.5 inches wide. The overall height is about 12 inches. It weighs in at 18 lb without fuel and 24 lb ready to run.
The original drawings were done by Roger Newton. The wood and hardcore foam plug was made using these plans.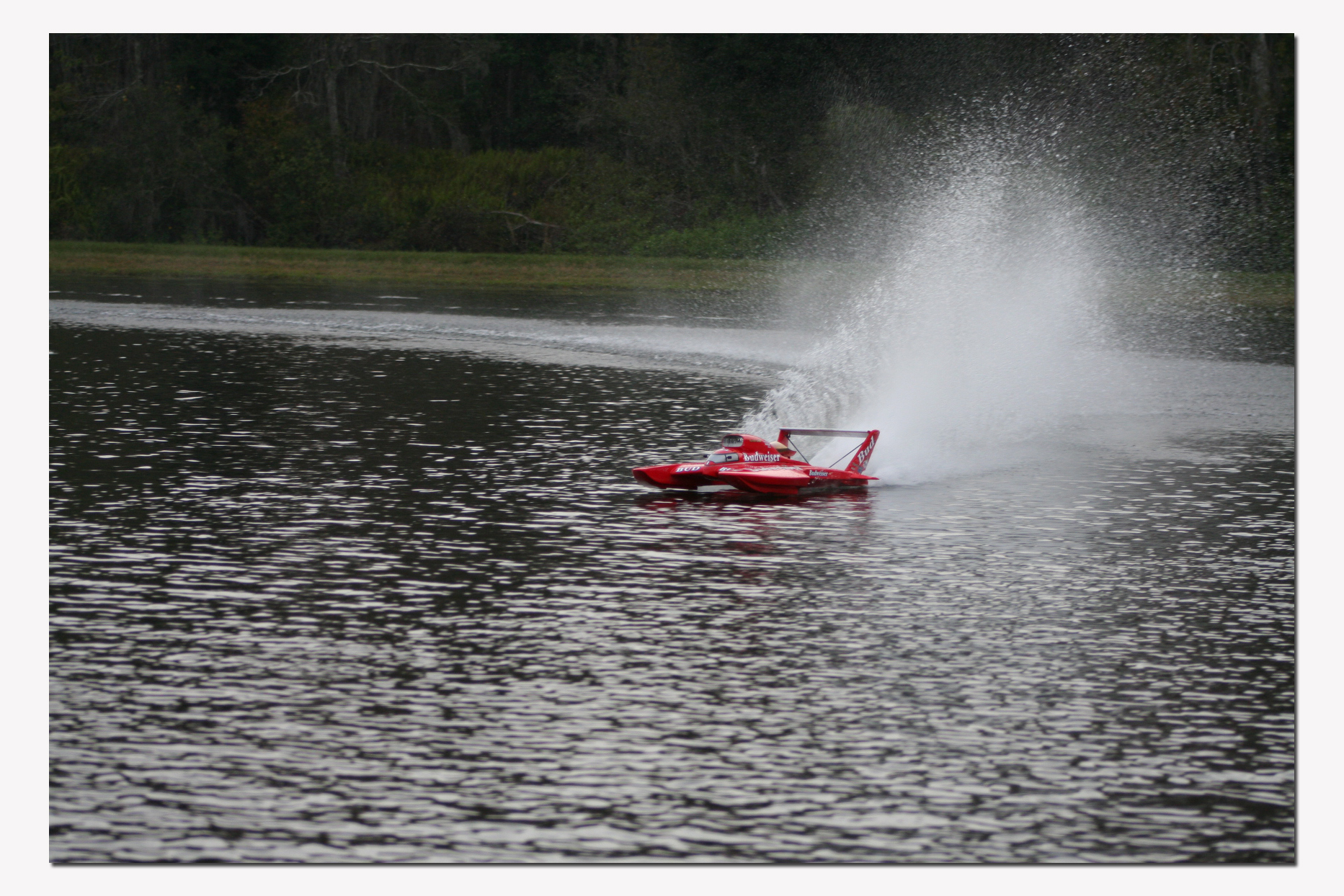 The hull is constructed of vacuum bagged carbon fiber. Pre-impregnated carbon fiber sheets were used. They are sheets that you heat up and lay in the mold.
The boat was initially supposed to be painted Miss Exide but I ran out of time and decided to do the simpler Miss Budweiser paint scheme. The next one I build will have a cockpit windshield with a driver inside and it will be painted Miss Exide.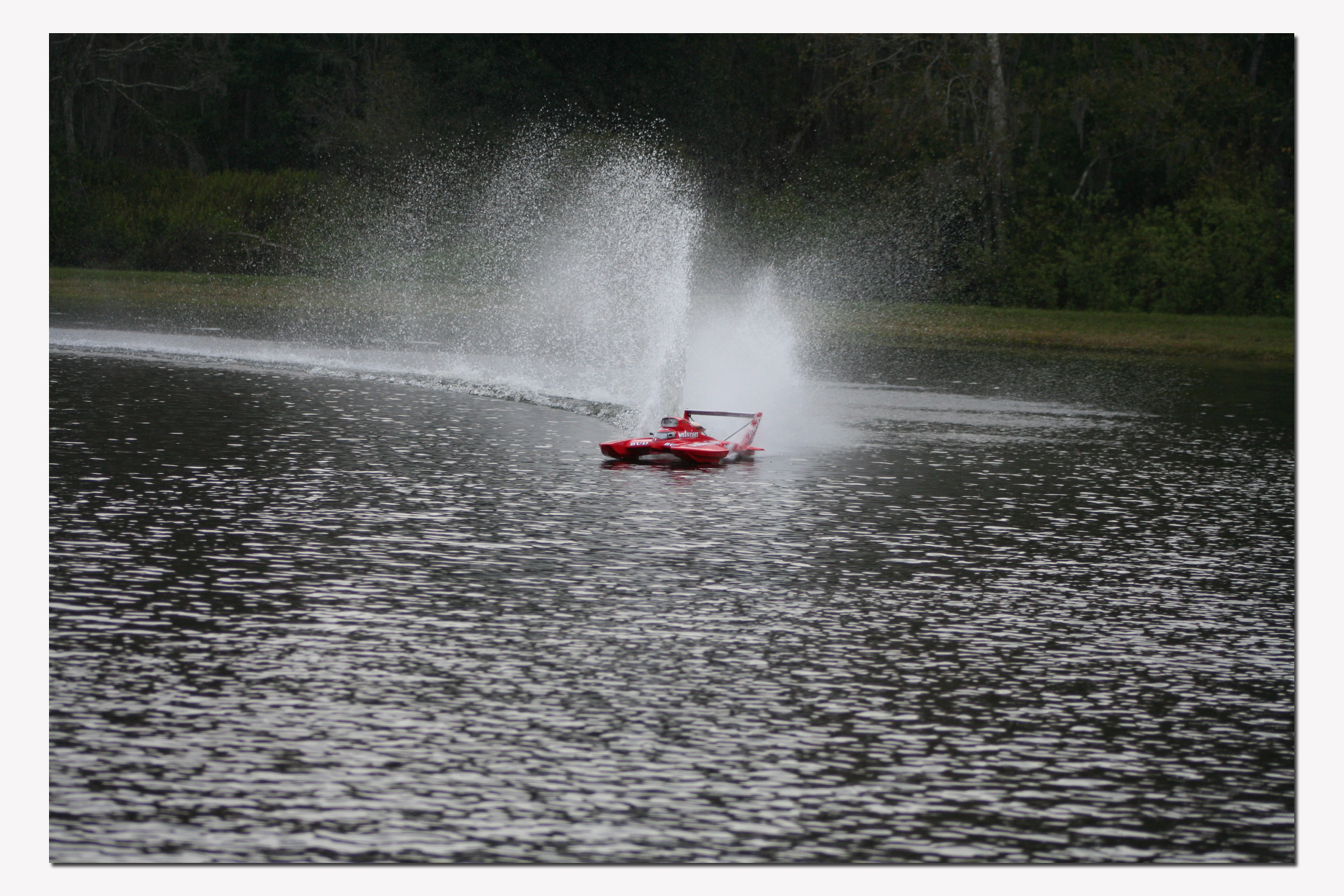 MGB: This was obviously an amazing project to realize! Any other projects in mind for the future?
Peter: I want to build a round nose hydro, either a Miss Thriftway or Miss Hawaii Kai. It's engine will be a ¼ scale Rolls Royce Marlin V-12 Supercharged gas engine.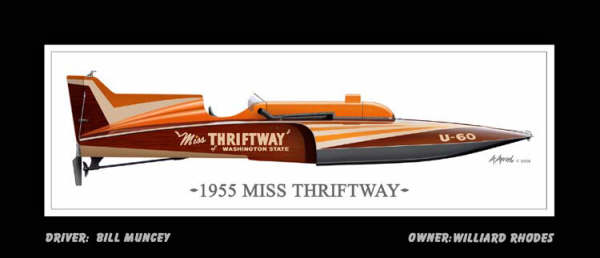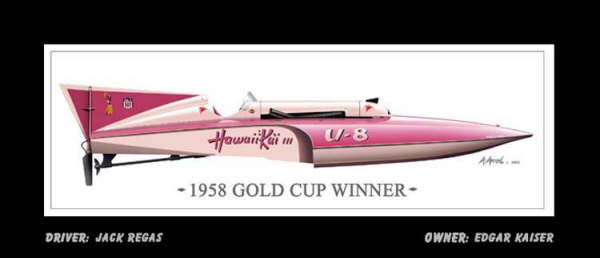 MGB: Wow, that sounds awesome Peter, can't wait to see it! Please keep us informed!
Note from the editor:
On the day prior to the races a few of us set out to another local pond to actually see Peter's Miss Budweiser run. It truly was a sight to be seen and heard! Peter explained the security features of the turbine engine as he got it started. The boat was launched and we all stood in awe! Here are some pictures.
Below is a short video clip of the Miss Budweiser in action!




Peter Muller would like to thank the following for their assistance and support:
- Mike Murphy and Sarah Parish from WREN turbines in England
- James Covert from Honeywell Security
- Roger Newton (plans and technical assistance)
- Andy and John Brown (propellers)
I would like to thank Peter for letting us do this interview and the privilege to witness this beautiful boat in action. Congratulations Peter on such a successful project!
Here are some more pictures for your enjoyment!