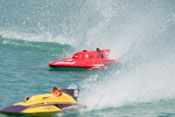 Report on the 2nd Annual Northern Lights Open....




We were excited to host our first event at a new site, a beautiful conservation area and campground near Waterford Ontario and were completely set up on Thursday afternoon.  Unfortunately when the water got flat later that night the weeds that were well below the surface came to the top and completely blanketed parts of the course, what a mess!  Our first thought was to cancel the event but after a call to Thames Valley MBC president Mike Hallam the decision was made to move the event to their great site in London.  A "midnight move" and many phone calls and forum posts later we had it all set up and the word was out.  Many thanks again to Mike and the TVMBC for rescuing our event!
In true "Open" spirit we had about 90 boats representing Gas, Nitro and Electric and were able to run 5 rounds by 2pm Sunday.  Some of the most exciting racing was in the open classes pitting each type against one another.  This year nitro came up on top, who knows next year?
A big thank you to our sponsors that helped make our event a success, their logos appear below, please support those that support us!
Next year we plan to hold the event in London sometime in June so look for us next Spring, we hope to see you then.
Somehow I convinced a couple of off duty flight attendants to sell raffle tickets, thanks ladies!
NLMBC member Tim Kish crafted some beautiful custom trophies for 1/8th scale and the "Oneida Cup" was resurrected and will be awarded annually for the highest two boat score at the Northern Lights Open.
Novice, soon to be "Young Gun", Dylan Kish gets doused for his first trophy. -  Southern Tier NY MBC president Pete Forcier wins the Oneida Cup for 2010, congratulations Pete!
2nd Annual "Northern Lights Open" results:
20 "B" Mono:

1st : Terry Keeley 1700
2nd: Ron Jefferson 1125
3rd: Tim Kish 1075

20 "B" Hydro:

1st: Ron Jefferson 1625
2nd: Chris Blaker 700
3rd: Geoff Overell 650

20 "B" O/B Tunnel

1st: Randall Thomas 2000 (perfect score)
2nd: Jay Moffatt 925
3rd: Matt Blaker 325

LSO - Limited Sport Offshore

1st: Mike Ball 1150
2nd: Jay Moffatt 925
3rd: John Einstein 575

"P" O/B Tunnel:

1st: Pete Forcier 1700
2nd: Mike Ball 1525 
3rd: John Einstein 750


"P" Mono:

1st: Pete Forcier 1600
2nd: Chris Krawczyk 1100
3rd: Steve Reesor 850

Limited Sport Hydro:

1st: Pete Forcier 2000 (perfect score)
2nd: Jay Moffatt 650
3rd: Mike Ball 375


40 "D" Hydro:

1st: Terry Keeley 1100
2nd: Allan long 1025
3rd: Geoff Overell 525

Sport 40:

1st: Steve Peterson 1625
2nd: Chris Blaker 1019 
3rd: Don Luckhurst 775 


Novice:

1st: Laura Hill 1500
2nd: Michelle Thomas 900
3rd: Dylan Kish 675

1/8th Scale:

1st: Steve Peterson 1225
2nd: Oliver Douglas 1125
3rd: Allan Long 600

Gas Mono:

1st: Randy Rapedius  2000 (perfect score)
2nd: Rudy Pechmann 1200
3rd: Paul Hendrickson 875

Gas Cat:

1st: Graham Hill 2000 (perfect score)  
2nd: Chris Spiteri 775
3rd: Paul Hendrickson 650


Gas Sport Hydro:

1st: Jeff Cowey 1250
2nd: Teddy Dudley 1125
3rd: Gary Isles 600

Gas Thunder Boat:

1st: Teddy Dudley 1850
2nd: Bob Tanner 1125  
3rd: Gary Isles 888  


Open Mono:

1st: Joe Pohl 1425 (Nitro)
2nd: Rudy Pechmann 1325 (Gas)
3rd: Chris Krawczyk 1150 (Elec)

Open Hydro: decided by 4 way runoff for 1st.

1st: Jeff Cowey 850 (Nitro)
2nd: Chris Blaker 850 (Nitro)
3rd: Niles Cowey 850 (Nitro)


Combined 1/8th Scale - Thunderboat - Concours d'Elegance:
Don Luckhurst - Miss Thriftway Thunderboat


Oneida Cup - High Point 2 Boats:
Pete Forcier - 3700
Races/Events Article...by Terry Keeley