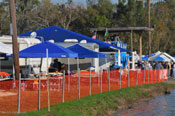 Our writeup on the 2009 IMPBA Gas Nationals...
Normal 0 MicrosoftInternetExplorer4
The IMPBA Gas Nationals...a yearly event in which racers from all over the world take part. The event is the largest gas race put on by IMPBA (International Model Power Boat Association). Racers come to enjoy the camaraderie and friendly competition. They also hope to take home some trophies as well as bragging rights! This race is not only the biggest yearly gas race, it is also usually the most competitive, and taking home a trophy from the Gas Nationals is always a great accomplishment.


The race is held in different locations every year. This year the race was hosted by the Voodoo Model Boaters club in LaPlace Louisiana, from November 16th to November 22nd. There were over 305 boats entered in 14 classes of racing as well as 22 teams participating in a Team Marathon (100 lap) race! Racers came from all four corners of the United States, as well as from Canada, Germany, and Puerto Rico (I might have missed some).

For my wife and I, this race was also a little "get away" vacation at the same time. We decided to drive down and take it easy so as to take in some of the scenery on the way. It took us two and a half days (27 hour drive) to get from our place in northern Canada to downtown New Orleans where we met up with some friends (Andre Abtmeyer, Torsten Picard and his girl friend Antje) all of which came in all the way from Germany to come to this event. We met up at our hotel in the French Quarter, and spent a few days visiting the area and enjoying the sights and sounds of New Orleans, after which we moved to the host hotel in LaPlace and went racing!


The competition was high and the program was fast. With all these boats and 5 rounds of racing to complete, not to mention the Team Marathon races, all in 4 days of racing, the Voodoo Model Boaters had a full plate. That said, they handled it like pros!

November 16th to 18th was dedicated "open water" testing days in which all racers could practice on the course and fine tune their boats to the conditions. Racing began on the 19th at 8:00 am and ended on the 22nd around supper time. This was followed by the awards ceremony.


I've been to several Gas Nationals now over the years, and most anyone that's been to one of these events will vouch that it's not only about the racing. The clubs putting on these large races try to make it a very enjoyable and memorable experience for all the boaters. In 2008 for example, we were hosted by the Mississippi Model Boaters at their club pond which is in a State Park. Some of us had the pleasure of staying in log cabins onsite during that race. Some evenings we were treated to superb home cooked meals and others we went out for a taste of the local specialties (I distinctly remember a superb catfish house...what an awesome meal!). Anyway, this year was no less of a treat! The Voodoo Model Boaters went out of their way to supply us all with great food and entertainment.


Every day the concession stand was open and serving fried shrimp baskets with fries, fried oyster baskets with fries, hamburgers, cheeseburgers, hot dogs with or without chilli, french fries, nachos and drinks. On Thursday evening we were offered pulled pork sandwiches and/or plates. On Friday, Cajun jambalaya. On Saturday Cajun boiled Louisiana blue lake crabs with corn and potatoes. It was just amazing home cooked food! To top things off, on Saturday night we were treated to live music by The Rock and Soul Band, a local band from New Orleans. Everyone there had a really great time!

Between this Gas Nats and the 2008 Gas Nats in Mississippi I can honestly say that I had some of the best times I've had with friends in the model boating hobby. "Them southern folk sure know how to have a good time and make you feel right at home!"


I would like to personally thank Carlo Catalanotto (owner of CC Racing Engines and president of the Voodoo Model Boaters) for letting us pit in his trailer and supplying us (Andre and I) with boats to race and basically everything we needed. Also, Gary Owens for letting me race my old Conquest Cat. Mike Cantavespri for putting up with me as his partner in Team Marathon!  A special thanks also goes out to all the members of the Voodoo Model Boaters, Jama Catalanotto, Mark Grim, Mike (Mudbug) Hemric, Chris Herzog and the team at MeTime Productions for all the work they all did to make this a great event. Let's not forget all the people that made the great food for us everyday...it was awesome!

I hope to have the pleasure of going to another race in Louisiana some day. It was well worth the LONG drive!

* For those of you who missed this one, or would simply like to relive a similar experience, the Voodoo Model Boaters are hosting the 2010 NAMBA Nationals in June. You can find more information on this race by visiting the official NAMBA Nats website here.


To see more pictures of the 2009 IMPBA Gas Nationals...go to our photo gallery in the "Races 2009" section. There are hundreds of great pictures taken by Andre Abtmeyer.


To see a list of winners and tons of video footage that was taken live at the event, visit the MeTime Productions website.


Happy Boating!

Races/Events Article...