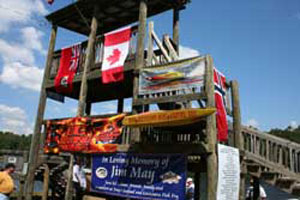 The 2008 IMPBA Gas Nationals in Durant, MS...
Attending the 2008 IMPBA Gas Nationals was a very rewarding experience for me. I didn't initially sign up for the race as I was unsure of my schedule till the last few weeks prior to the race. Luckily there were a few cancellations and I managed to share a cabin with two fellow racers, Danny Huckabay (Stroker Marine) and Mike Lykins (Camman) and his kids. 
The trip to the Nats started with some late night hugs and kisses for my kids and wife and I headed up to Georgetown Texas on Monday night to meet up with Danny Huckabay. I got my two monos loaded into the trailer and all my gear and we were off. We drove all night to make it to Durant MS by 9AM Tuesday morning. I hadn't spent a lot of time with Danny before and we used most of the night to swap stories and discuss boats. It was a lot of fun. Danny and I were both tired but we were there! We used the morning time to visit with old friends and setup at the race site. 
The race site was still being prepared when we arrived. Bulldozers and dump trucks were busy finishing some lake site improvements. They filled in a portion of the lake to the right of the drivers stand and this made for more parking area. The wet weather the week before had delayed this work so they were busy trying to wrap it all up. In general the gravel area they prepared was new so the only concern we had was if the trailer would sink into the soft ground. Our concerns were unfounded and we set up close to the water. 
The lake is a perfect size to host a major race. It was long and protected by some trees on either side. The launch area was
well organized and they setup both a front pit and a back pit area. The front pit was for even number heats and the back pit was for odd number heats. This worked out well as the next heat was always ready to go without a lot of folks trying to climb over one another. The drivers stand was a sturdy wood unit with stairs on either end. The officials had an elevated area above the drivers section. The PA was strong and you could hear announcements. The twin retriever boats and crews were the real hero's of this event. These guys worked their rear ends off all week and never complained once. I made a point to go thank these guys often (more on this later). 
Tuesday after setup the call for open water went out. I had along with me a Chung yang powered AC Razor mono hull running a Gonads canister muffler for the Super Stock class as well as another AC Razor running a CC Racing setup. I really hadn't had a ton of time to set up either boat prior to making it to the races. I had several new props I wanted to try so I set up the Super Stock boat first and headed over to the launch area. I soon found that my old setup was still running about the same speeds I had at home. This was good to see. I next tried to optimize the setup if I could. I swapped props and lowered my strut a bit. The RPM came up and the speed went up as well. This was a good direction to be going! I later changed to some fresh fuel and picked up some more RPM and speed. I think that boat was ready for battle! I moved on to the CC Razor but open water time was starting to wrap up. I managed to get in a few runs and I decided that I could run it again Wednesday to determine any changes I wanted to make.
Wednesday arrived early! After driving all night Monday and working all of Tuesday I could have used a bit more sleep! I could always sleep when I got back home so I got down to the race site fairly early. The open water was just heating up. I managed to get in a bit of testing but I was not real happy with the setup. I tried a bunch of subtle changes but nothing was really helping get much more speed. I decided to stick with a conservative setup and put the boat up for the day. "Rather finish a race than blow over" was the thought! 
The evenings at a national race can be as much fun as the day times. I got to visit with several racers I have not seen in a while. It's always a good thing when you can also meet new faces. I finally got to met Marc from Modelgasboats.com.  Despite everything you have heard about this Canuck he is an alright guy! (just kidding Marc). I also got to meet several of the guys from Ohio and Florida as well as the locals. Speaking of locals... The local crew of Doug, Willie, Steve and all the others were terrific all week. I especially enjoyed spending time with my local club member Danny Huckabay the whole week. He and I tend to have fairly busy schedules normally so any time we get to go "play" we relished it. Was a pleasure to pit for him and he would do the same for me. I got to also spend some time with a new racer Mike Lykins from Houston. Mike was there with his two young sons. See his kids could not attend school because of the electrical outages in Houston from the hurricane. Mike brought them along and was planning to camp out the whole week. Danny and I discussed the arrangements and decided to offer Mike and his kids a place in the cabin we were staying. The cabin worked out well as he had all the camping gear already and the kids could sleep on the floor. Got to swap plenty of stories with Mike and I think we converted him into a die hard racer! It didn't hurt that we "overhauled" his motor and boat setup and had his Cat flying before long! Was a good time for sure!  
Races were started Thursday after a rather colorful and entertaining drivers meeting. If you have not attended a race before, the drivers and pit folks will all be assembled to go over the basic rules. It is a time where you can ask questions and get a feel for how the officials will expect you to drive.  After the drivers meeting I was up in round 1, heat 1 for Super Stock.  
My first heat I managed to setup the start well and got out front early. I was able to easily hold off the pack and took the win. A good confidence builder! My other races were varied with success and not so successful. There is a direct correlation to how well you prepare to how well you can do at the races! I guess life is sort of like this as well! In general I did very well with my Super Stocker and not so well with the other classes. I think the retrieve boat drivers thought I wanted to do their job. I was picking up my boats so often over there after a flip or mishap that you would think they could have made me an honorary retriever team member! No matter how often I would show up over there they always were kind and jovial. These guys were the best.  
After a day racing it's nice to get cleaned up and get a good meal. We were treated to an outstanding meal hosted by Carlo from CC Racing. He had a friend of his from New Orleans come up with some catered food and it was fantastic.
Friday racing went well with more good fortune in Super Stock but not so well in the others. I managed to find a corroded battery connector in my CC powered boat. I proceeded to change out the connector and soldered up all the connections. Plugged it into the receiver and threw the switch. Smoke! What happened? I'm embarrassed to say as an electrical engineer that I managed to solder the ground wire from the connector to the positive terminal for the switch and the positive from the battery connector to the ground! I could use the excuse that the wire insulation pulled off some and I thought I grabbed the red wire (while it was in fact the black one) but you would never believe that. I had to change out a servo (smoked a standard version) but no other harm. I made the mistake of telling local good ol'e boy Willie Dennis about this. He had a good time the rest of the races asking me if I were an EEEEEE-lectrical engineer. I still get a big grin on my face just thinking of Willie giving me heck! I Overall a good day and one that will remain in my memory for the fun had. Can't recall what night it was but think it was Friday night. I helped pitch in on some late night wrenching on a local guys boat. Was fun to help out someone who was struggling with his setup. Wrapped it up with a cook out over at Jeff Daft's cabin later that night and swapped stories with several of the racers. It was a good time for sure. 
Saturday we only had a few more races to wrap up and fit in a few fun races with teams of racers. I didn't participate in the team race but in hindsight I should have entered my Super Stock boat. The 100 lap Enduro type race needed consistency and not necessarily the fastest boats. Was a lot of fun to watch. If you get a chance to run this go for it. 
Saturday night we wrapped up the event with a nice catered dinner and trophy presentation. We all managed to fit into the covered and air conditioned facility. The food was great and the company outstanding. I managed to come away from the night with a first place trophy and title of National Champion for the Super Stock class. A nice plaque, a new Zenoah motor, and some custom graphics were the prize. I didn't place in any other class but this was OK as I was still happy as could be with the SS win.  
With the races essentially over we decided to head out early. We checked out of the cabin and headed back to Texas so we could be with our families the remainder of Sunday. Drove all night Saturday evening and managed to get back before noon Sunday. I was beat but happy to be home. Overall a great race and a great bunch of folks I ran and traveled with.
Jim Nissen
www.jrcbd.com
Some words from Steve Leslie, President of the MMBA and Race Coordinator...

WOW WHAT A GREAT RACE!

The Gas Nationals, WOW what can I say. This year the 2008 Gas Nationals were held in Durant, Mississippi. The weather could not have been any better if you had ordered it. What you need to put on an event like this is a lot of planning and hard work. The race was very successful this year because we had a well thought out plan and everyone carried it out.  Some thought we couldn't pull this off, but we did. We started planning over a year ago to host The 2008 Gas Nationals and with the help of Kevin Sheren and a push from Carlo Catalanotto we were awarded the race. Our main concern was to expand our parking next to the lake. Through no fault of our own this was finished as some of the first contestants were arriving!
Our attendance was off this year because of gas prices and hurricanes but those that attended had a great time. We met a lot of new friends from all over the United States and from four countries. The facilities at Holmes CountyState Park had just undergone a complete facelift, the lake was perfect and the racers enjoyed one of the finest driver's stands in the country!  
Friday night CC Racing was to host a Cajun Feast but because of the Hurricanes the seafood supply was not available so we had a Great BBQ delivered by the Robert Earl Express!
Saturday night we held our banquet and the racers were treated to a great meal and were   entertained with a magic show put on by Magician Wardell Herring. Trophies were handed out with the top 10 class winners also getting a new Zenoah motor.
We feel like everyone had a memorable time and we as the host committee enjoyed putting on this event. I would like to thank all of our sponsors but especially Zenoah Power and Owens Specialty. We could not have done it without them. Also a special thanks for those who went the extra mile.
  Doug Dalme- My right hand man & CD for the entire race
  Donna Perkins –Park Manager & Host
  Romona Leslie, Ann Leslie & Ann Dalme for taking care of the registration, running many errands and for the success of the raffle.
  John Thomas, Rod Leslie, Joel Lewandowski, Neal Haddon, Richard Stevens, Terrance Walker, and Julius Lawrence for the Best pick-up boat crew ever. Looked like the Navy out there.
  Richard Stevens – Scoring and Computer
  Julius Lawrence and Terrance Walker for Pit Boss
  Willie Dennis for Radio Impound
Thanks again to everyone that helped. We not only had a good time, the racers put on a great race for all the spectators to watch. We are all looking forward to the Gas Nationals in 2009 to be held in La Place, Louisiana. Good Luck guys, see you there!
See you at the Races,
Steve Leslie MMBA President & Race Coordinator
*** For more pictures of the race, please visit the Gallery section of Modelgasboats.com , under "Races 2008", "Gas Nationals"!
You can also find many more pictures on Jim's RC Boat Dock by simply doing a search for "Gas Nationals"!
Final Race Results 2008 IMPBA Gas Nationals

LS27 RIGGER

CRACKERBOX

SUPER SPORT MONO

 SERGIO PEREZ
TODD GUNDER
WENDELL BARROW
DANNY HUCKABAY
WES YOUNG
 GUS DOLSEN
DANNY HUCKABAY
LARRY GOTTSCHALK
PERRY BREAUX
HAROLD DOBBINS
 JIM NISSEN
MIKE CANTAVESPRI
DANNY HUCKABAY
JOE DUGAS
MARC LEVAC
 
 
 
 OPEN OFFSHORE
 OPEN HYDRO
 XLS MONO
 PAUL GRIFFIN
CHRIS RUPLEY
MARC LEVAC
JEFF DAFT
JEFF NEAL
 JEFF NEAL
VINCENT BAUMANN
CARLO CATALONATTO
WEDELL BARROW
SERGIO PEREZ
 PAUL PACHMAYER
CHRISRUPLEY
JAY IRWIN
TOXIC AL GEMUENOT
 
 
 
 OPEN MONO
 XLS CAT
 THUNDERBOAT
 PAUL GRIFFIN
MARC LEVAC
JEFF NEAL
GAVIN WOOLRIDGE
JAY IRWIN
 DOUG EASTER
DALE BROBST
PAUL PACHMAYER
JAY IRWIN
 NEAL JOHNSON
JAMES HOHENSEE
VINCENT BAUMANN
JOE DUGAS
MIKE WHITLEY
 
 
 
 LS27 MONO
 LS27 CAT
 SPORT HYDRO
 CHRIS RUPLEY
MARC LEVAC
MIKE CANTAVESPRI
DALE BROBST
STEVE COOPER
 FLOYD BADEAUX
CARLO CATALANOTTO
PAUL GRIFFIN
BRUCE SOBERG
DALE BROBST
 DALE BROBST
DOUG EASTER
BRUCE SOBERG
DANNY HUCKABAY
JEFF NEAL
 
 
 
 TROPHY DASH
  LS27 CAT; DOUG EASTER
LS27 MONO; CARLO CATALANOTTO
SPORT HYDRO; DALE BROBST
 
  100 LAP MARATHON
 1ST - MARC LEVAC AND CARLO CATALANOTTO
2ND - SERGIO PEREZ AND JULIUS LAWRENCE

Races/Events Article...by Jim Nissen and Steve Leslie