Multithumb found errors on this page:

There was a problem loading image 'images/stories/issues/Mar2008/2008WinterNats/IMG_0537---Copy.jpg'
There was a problem loading image 'images/stories/issues/Mar2008/2008WinterNats/IMG_0537---Copy.jpg'

Races/Events Article...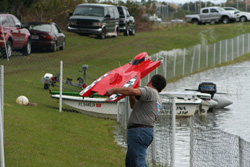 Coverage of the 27th Annual Orlando Winter Nationals.
The Orlando Winter Nationals has become a fairly large event over the years. It has been running now for 27years. Hosted by the Orlando Culvert Dodgers, the event took place at Lake Richard just off of Lee Vista Boulevard. The pond is easily accessible and is located only minutes away from the Orlando International Airport. There are many hotels and restaurants in the vicinity and plenty of activities to take part in when not at the races!

This was my second year attending this event. Being so far away and time off of work being a limiting factor for me, I opted to fly into Orlando and some friends picked me up at the airport. I had the pleasure of pitting with Carlo Catalanotto of CC Racing Engines and a bunch of great guys. (I wont name them all, they know who they are!) Carlo was kind enough to let me ship my boat to him prior to the races and he even ran and tuned it for me before taking it to Orlando! This was awesome since the lakes back home were long frozen by that time and the boat had not seen water since the 2007 Gas Nationals back in September!

In Orlando we stayed at a house we rented in a nice little neighbourhood not too far away from the races. This a great option to
cut costs if you are several racers going together. Having all of the comforts of home at your convenience is nice too!

I arrived late in the evening on the Tuesday prior to the races and was able to get in a full day of open water to re-accustom myself to running a course (although it actually took me well into the 3rd heat of racing to really get back into it! ha ha). We ran all of our boats and enjoyed the nice weather. The weather was especially nice for a northerner like me arriving from an area where the daily temperatures were regularly around -20 degrees at that time of year!

The event is a NAMBA sanctioned race. This year there were 116 contestants entered for a total of 325 boats racing various gas and nitro classes. As "special" classes this year, the first day of racing (Thursday) included an all new Thunderboats class, which counted 17 boats. Also during that day were the RTR Nitro, Open Offshore, Nitro Team Marathon and Gas Team Marathon classes. I really enjoyed watching and racing in some of these classes. I like the way they run a day with special classes prior to the normal 3 day heat racing. It feels like two races in one!

The regular classes were run from Friday to Sunday inclusively ending in mid afternoon on Sunday and followed by the awards ceremony.

The racing action was fast and aggressive. I think the judges had their hands full keeping track of everything that was going on at times but all in all the team of the OCD did a good job. This is becoming more frequent at races (at least those that I have been to) and I think it is largely due to the fact that the racing has become much more intense in the past years. For many this has become more than a hobby and the pressure to perform is heavy on their shoulders. We can also note the obvious will of some to outperform the "top dogs" to try and make their mark and this often translates into more aggressive driving. There were arguments about some calls (or lack of) that were brought up during the races, some of which I agreed with others not so, but I for one have never been a CD at a race so I am certainly not in a position to pass judgement. Overall I personally had a good time racing.

The weather over most of the weekend was good. Water conditions varied from mirror-like to very rough during high winds. It made for some interesting racing.
There were concessions onsite all weekend. They had a good selection and great prices. Hot coffee, cold drinks, water, burgers, rib sandwiches and more!

I think one of the races where I had the most fun was when running Gas Team Marathon with Carlo, even though I didn't actually get to run my boat! We were first in the water with a lap ahead of the pack when Carlo's boat hit something in the water and did a funny spin-over/back flip! Anyway, after letting it drift to shore (you can't go in the water to get it with other boats still racing) we finally managed to get it back in the pits and re-launched it in order to at least try to finish the race. Luck wasn't on our side however and we ended up trying two more times without success. Water had gotten in the gas and we finally had to call it quits but we had a good laugh and we can honestly say that we didn't give up! Friends Gary Owens and Jeff Daft (Herzog Racing) went on to win this 100 lap marathon! What an exciting race folks!

I think it is important to point out also what a great job the retrieve boat operators and radio impound personnel did at this event. I noted the same last year. They do a great job and I congratulate them on that.

The folks from MeTime Productions were also onsite taking pictures and video. You can order your own prints and DVDs of the race from MeTime on their website here .

Now the nice thing about these races is that it's not all just about racing! Reuniting with old friends and also making new ones...that alone is worth the trip for me! In general racers are a great bunch of people and when we all get together for a good time that is the best reward.

A fine example was on Friday night when we were treated to the best seafood boil I have ever had. It was of course put on by Carlo. His name has become synonymous with seafood boils at races I think! It is always a high point of the weekend for me and many others I am certain. A large crowd gathered that night for what turned out to be a great opportunity to chat between racers.

On Saturday night a bunch of us were treated to a ride to a local restaurant in a double-decker bus, owned and operated by Scoobey Meltcher (Atlantis Limousines). What a nice guy and a great time we had. We all went out for a late dinner and Scoobey drove us all back to our vehicles afterwards. Another high point of the weekend, thank you Scoobey!

Prizes were awarded for top three places in every heat. The trophies were nice plaques. Another nice touch was the fact that they handed out 1rst to 3rd place ribbons to winners of every heat! If you didn't go home with a trophy at least you had good odds of bringing back a few ribbons! I know I did, and when I got back home my daughters appreciated it the same as if I had brought back trophies! :)

I had a great time at the Winter Nationals and only wish I could have stayed in Orlando longer before heading back home to the cold and snow!
There are hundreds of pictures of this race in the PICS/VIDS section under "Races 2008"


Final results for the weekend (top 5)

2008 ORLANDO WINTER NATIONALS
FRIDAY THROUGH SUNDAY
JANUARY 25 – 27, 2008


1 RTR Nitro 67 Meltcher, Scoobey 400 400 400 400 1600
1 RTR Nitro 68 Mantesta, John 25 300 300 300 925
1 RTR Nitro 70 Hellwig, Mary 300 0 0 0 300
1 RTR Nitro A3 Amador, Ernesto 0 0 0 225 225
1 RTR Nitro DSM Hourany, Randy 0 0 0 25 25

2 Crackerbox 66 Stutz, Kurt 400 400 400 400 1600
2 Crackerbox 74 Miller, David 400 400 300 300 1400
2 Crackerbox 83 Arencibia, Bert 300 300 300 400 1300
2 Crackerbox 73 Hilldale, Michael 300 169 169 300 938
2 Crackerbox 69 Calogero, Joe 25 225 225 225 700

3 A Mod Tunnel 74 Junker, Zack 225 400 300 300 1225
3 A Mod Tunnel 67 Halbrehder, Jay 400 0 400 400 1200
3 A Mod Tunnel 84 Otto, John 400 0 400 225 1025
3 A Mod Tunnel 73 Duchesne, Donny 400 25 25 400 850
3 A Mod Tunnel 84 Junker, Rich 300 400 25 25 750
3 A Mod Tunnel 64 Junker, Shawn 25 400 300 25 750

4 A Mono 77 Lind, Richard 400 400 400 400 1600
4 A Mono A2 Forcier, Pete 225 300 225 300 1050
4 A Mono 89 Hearl, Steve 400 300 25 25 750
4 A Mono 62 Kindred, Joshua 0 400 300 25 725
4 A Mono 78 Smith, Brian 300 169 225 25 719

5 Jersey Skiff 83 Medina, Ross 400 400 400 300 1500
5 Jersey Skiff DSM Perry, William 300 300 300 225 1125
5 Jersey Skiff DSM Owens, Gary 25 400 169 400 994
5 Jersey Skiff 72 Adams, Steve 225 225 225 169 844
5 Jersey Skiff 69 Calogero, Joe 400 0 300 72 772

6 A Hydro A1 Forcier, Pete 225 300 25 400 950
6 A Hydro 64 Kindred, Ray 25 400 400 25 850
6 A Hydro 84 Smith, Brian 300 225 225 0 750
6 A Hydro 78 Ratoff, Ron 400 0 25 0 425
6 A Hydro 86 Henry, Leighton 0 0 300 0 300

7 GX1 Mono 74 Miller, David 400 400 400 400 1600
7 GX1 Mono DSM Miralles, Sal 400 225 400 400 1425
7 GX1 Mono 83 Garcia, Robert 400 300 169 400 1269
7 GX1 Mono 66 Stutz, Kurt 400 25 400 400 1225
7 GX1 Mono 86 Guerra, Virgilio 225 300 225 400 1150

8 B Mod Tunnel 62 Junker, Shawn 400 25 400 400 1225
8 B Mod Tunnel DSM Kopisca, Nub 300 300 300 225 1125
8 B Mod Tunnel 83 Junker, Rich 225 225 225 300 975
8 B Mod Tunnel 89 Hearl, Steve 25 400 400 25 850
8 B Mod Tunnel 65 Halbrehder, Jay 25 25 300 400 750

9 B Mono A4 Grim, Mark 400 300 300 400 1400
9 B Mono 80 Blake, Lenny 225 400 400 300 1325
9 B Mono 69 English, Brandon 25 225 225 169 644
9 B Mono 73 Duchesne, Donny 0 25 25 300 350
9 B Mono 86 Weinman, Joey 300 25 0 25 350

10 GX1 Cat 83 Garcia, Robert 400 400 400 401 1601
10 GX1 Cat 64 Hemric, Mike 400 400 400 400 1600
10 GX1 Cat 67 Tyson, Mike 300 300 225 300 1125
10 GX1 Cat 83 Arencibia, Bert 400 169 25 400 994
10 GX1 Cat DSM Watts, Brian 400 169 400 25 994
10 GX1 Cat 69 Calogero, Joe 400 225 225 127 977

11 B Hydro 80 Blake, Lenny 400 400 300 400 1500
11 B Hydro 76 Muller, Peter 400 25 400 400 1225
11 B Hydro DSM Junker, Rich 0 400 400 26 826
11 B Hydro 86 Kopisca, Nub 225 300 0 300 825
11 B Hydro 79 Ratoff, Ron 25 225 25 0 275

12 Sport 40 II A3 Wiebelhaus, Joe 400 400 225 400 1425
12 Sport 40 II 62 Kindred, Joshua 169 400 400 400 1369
12 Sport 40 II A4 Wittrig, Chris 400 225 300 225 1150
12 Sport 40 II 89 Hearl, Steve 25 300 400 300 1025
12 Sport 40 II 72 Adams, Steve 400 25 25 300 750

13 GX1 Sport Hydro 81 Acanda, Luis 400 300 400 300 1400
13 GX1 Sport Hydro DSM Perry, William 400 400 225 225 1250
13 GX1 Sport Hydro DSM Taggart, John 300 127 400 400 1227
13 GX1 Sport Hydro 66 Stutz, Kurt 25 400 400 400 1225
13 GX1 Sport Hydro 83 Medina, Ross 400 400 25 400 1225
13 GX1 Sport Hydro DSM Owens, Gary 25 400 400 300 1125

14 1/8 Scale A2 Hagood, Randy 300 300 300 400 1300
14 1/8 Scale A3 Wiebelhaus, Joe 225 300 300 300 1125 4
14 1/8 Scale DSM Newton, David 0 300 400 400 1100 1
14 1/8 Scale A4 Grim, Mark 300 400 400 0 1100
14 1/8 Scale 64 Kindred, Ray 400 225 225 225 1075 5
14 1/8 Scale 83 Adams, Steve 300 169 400 169 1038 2
14 1/8 Scale 90 Allen, Mike 400 400 0 225 1025 3

15 X Rigger 76 Muller, Peter 400 400 25 400 1225
15 X Rigger 90 Foley, Tom 0 225 400 25 650
15 X Rigger DSM Kopisca, Nub 0 300 300 25 625
15 X Rigger A4 Grim, Mark 0 0 0 0 0
15 X Rigger A1 Perez, Sergio 0 0 0 0 0

16 GX1 Rigger 62 Traut, James 400 400 400 300 1500
16 GX1 Rigger DSM Owens, Gary 300 300 400 400 1400
16 GX1 Rigger DSM Hourany, Randy 300 225 225 400 1150
16 GX1 Rigger 77 Lind, Richard 400 400 300 25 1125
16 GX1 Rigger 90 Foley, Tom 300 25 300 300 925

17 Open Gas Offshore 86 Guerra, Virgilio 400 400 225 301 1326
17 Open Gas Offshore 77 Hale, Paul 400 300 400 225 1325
17 Open Gas Offshore 77 Lind, Richard 400 25 400 401 1226
17 Open Gas Offshore 75 Miller, Jason 25 400 400 400 1225
17 Open Gas Offshore A4 Sueiro, Allen 225 300 25 300 850


2008 ORLANDO WINTER NATIONALS
THURSDAY, JANUARY 24, 2008


Classic Thunderboat 86 Walter, Perry 25 300 400 400 1125 7
Classic Thunderboat 90 Allen, Mike 0 300 400 400 1100 2
Classic Thunderboat DSM Newton, David 400 400 300 0 1100 1
Classic Thunderboat DSM Ott, Charle 300 169 300 225 994 6
Classic Thunderboat 84 Geiger, Jim 169 400 400 0 969 4

Open Offshore 77 Lind, Richard 25 400 400 401 1226 1
Open Offshore 88 Coburn, Watson 400 400 25 400 1225 2
Open Offshore 77 Hale, Paul 400 25 400 25 850 3
Open Offshore DSM Daft, Jeffrey 25 25 300 300 650 4T
Open Offshore 69 Levac, Marc 300 25 25 300 650 4T
Open Offshore DSM Lis, Eric 25 25 300 25 375 6

Gas Team Marathon DSM/DSM Daft – Owens 100 1
Gas Team Marathon 77/77 Hale – Lind 99 2
Gas Team Marathon 80/80 Molina – Gonzalez 39 3
Gas Team Marathon 69/78 Levac – Catalanotto 1.5 4
Gas Team Marathon 76/83 Farrow – Medina 0