Races/Events Article...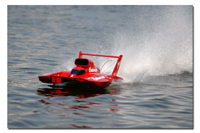 The ultimate European Powerboat meeting...read all about it and see what all the excitement is about!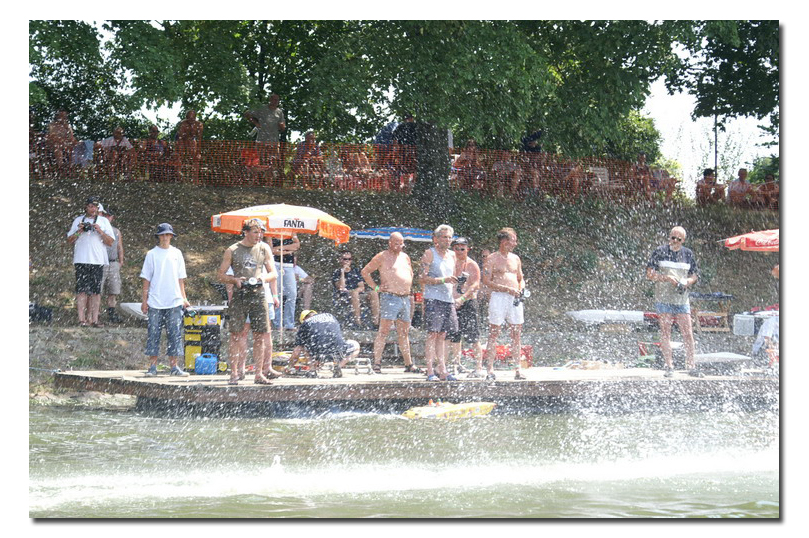 Heilbronn 2006 (or how to make a Powerboat Party)
Due to the fact that boat racing is not so popular in Germany, the boaters here do not have so many chances to come together with other boaters from the whole country.
The reasons for that are easy: Germany (as with many other countries in Europe) is densely populated. There are not so many places where it is allowed to run boats. As a basic principle boating is prohibited if you disturb someone's privacy. In summertime all possible ponds are crowded with people who want to go swimming. And of course nobody wants to run their boat when swimmers are in the water.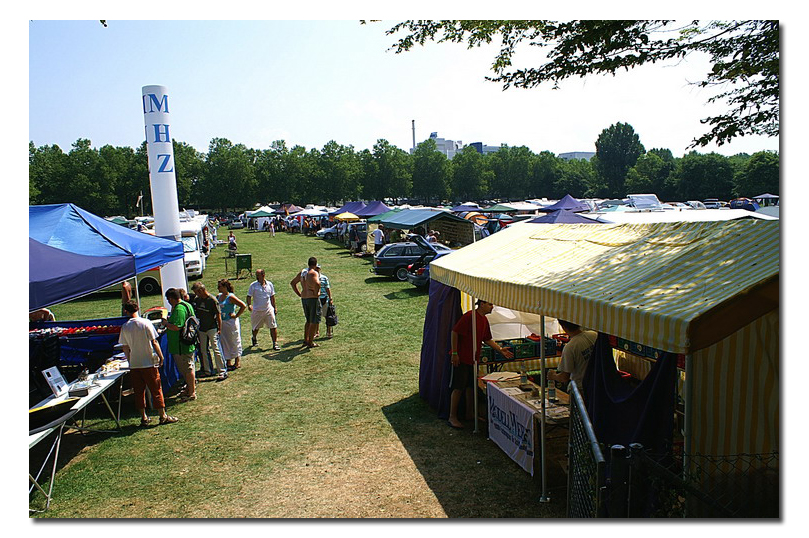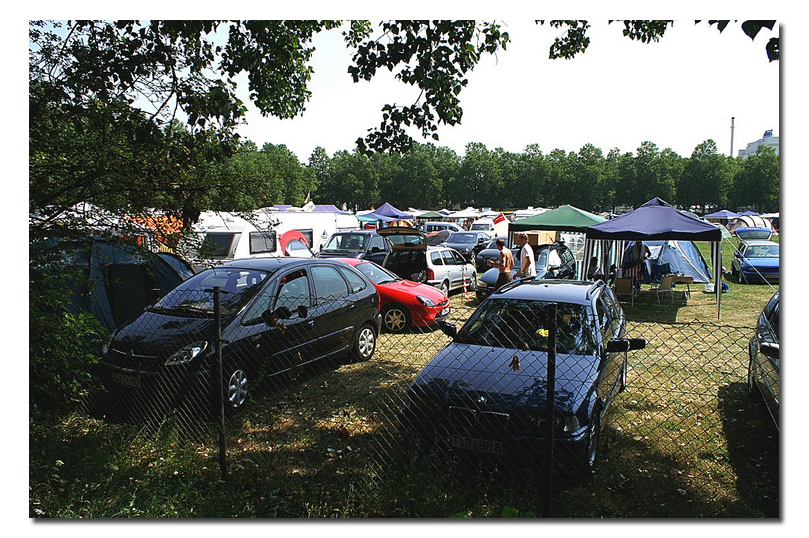 On the other side there are a lot of self-proclaimed eco-warriors who make boating very difficult. We have lost too many ponds due to loud pipes or oil on the water, so running gas or nitro boats is much more complicated than running electric powered boats. Tank vents with small canisters and full muffled pipes like those which are available from MHZ, MTL, Dave Marles or Jeroentune are strongly recommended. Add-on mufflers like many used in America simply aren't quiet enough.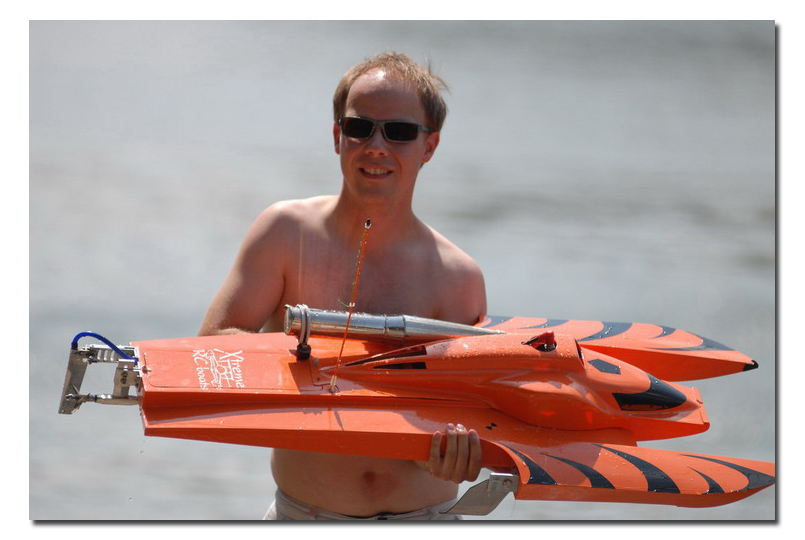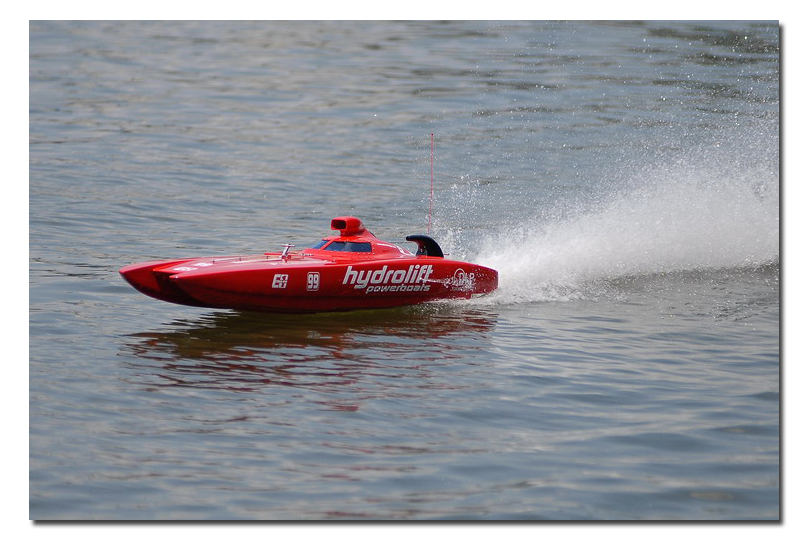 There are more reasons why boat racing is not so popular. Too many rules; unpopular boat designs for the offered classes; too much competition and less friendship between the racers...
For this reason many boaters just decide to be sport boaters, not racers. But without races, how is one to meet other sport boaters?
And so was born the idea of the European way of powerboat-meetings.
Ten years ago the board from the club MSC Hansa decided to have a meeting on their club area in Heilbronn and from this time the meeting has grown from year to year. There are no race activities, just running boats together, presenting new boats, new technical developments, new boat designs and paint schemes. Every year in July boaters come to Heilbronn, staying there for a long weekend, sleeping in tents, RV's or hotels, having cool beers, hot bbq's and much more fun.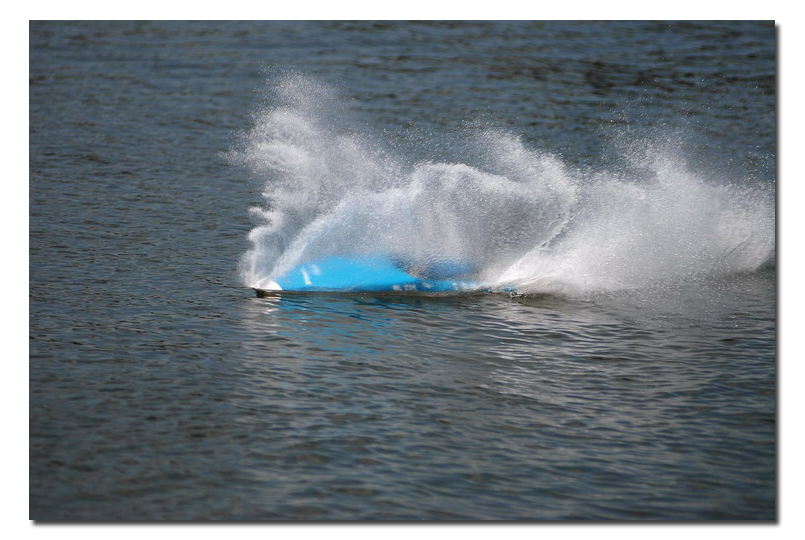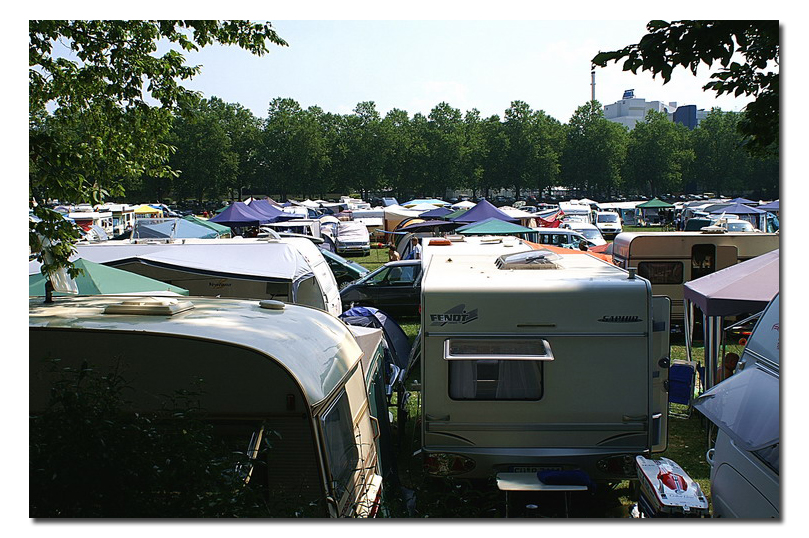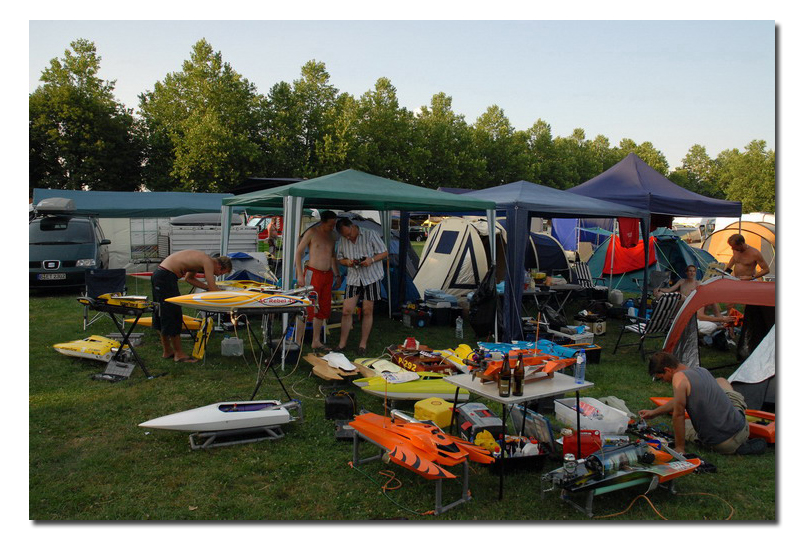 This year was the 10th anniversary of the powerboat-meeting. And it is not only a german meeting. Visitors from the Netherlands, Belgium, Switzerland, Austria, France and other countries have been coming for years now to make this into an international meeting.
The boats are not limited. You can see gas engines, nitro engines end electric engines, often enough all together on the water at the same time. There are boats with single engines, 2 engines side-by-side (mostly counter-rotating), Twin- or Triple engines, brushless electric engines with more power than most fuel engines (8-10hp is not rare...), engines from 1cc to 78cc, Zenoah, Quickdraw, Sikk, Mathe, CMB, K&B, Rossi, OPS... Everything is possible! You can find monos, cats, hydros, riggers. Sizes range from a few inches to 95 inches.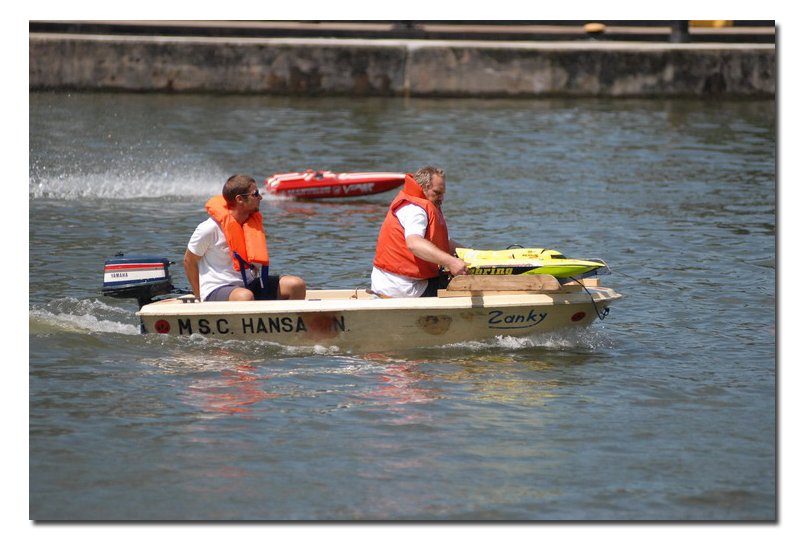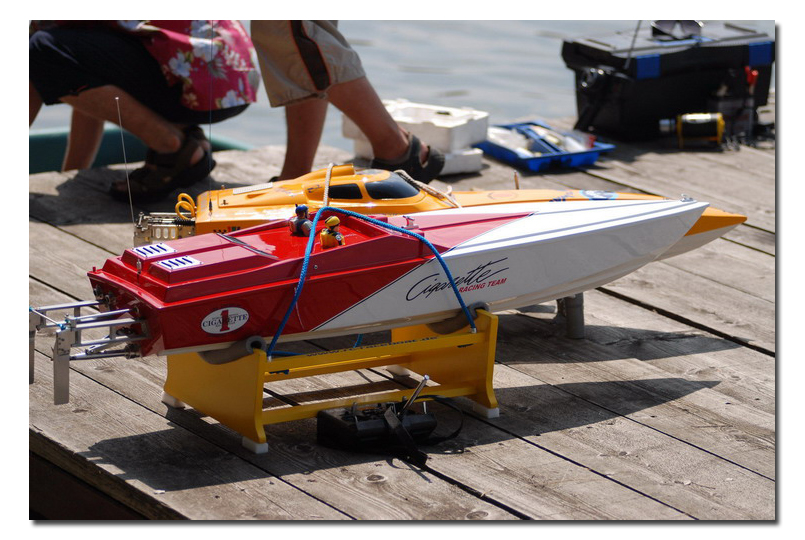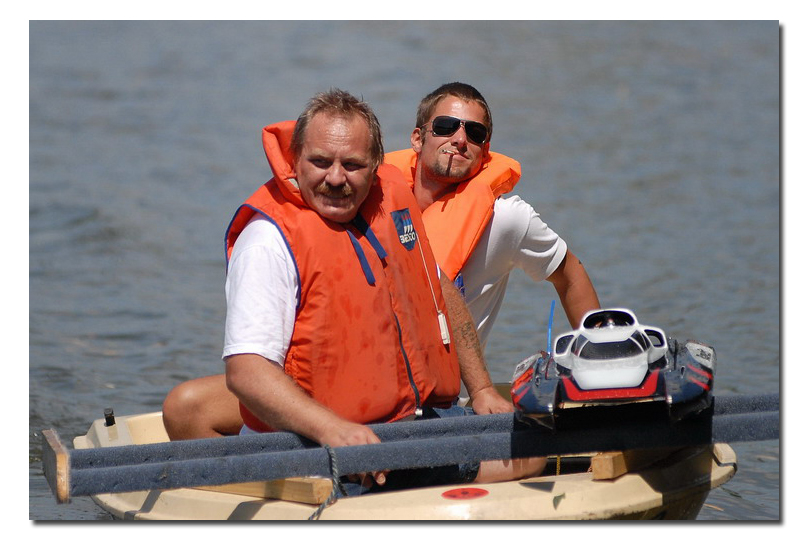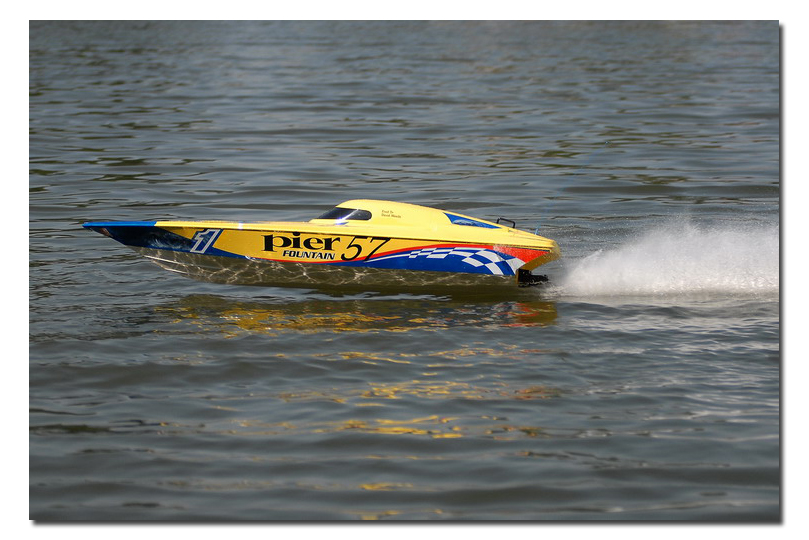 On the water you have just 2 buoys. That is 4 less for hitting...and it seems that the buoys on the water are magnetic... So much room and it happens often enough that someone hits the buoy.
This year it was so hot (38°C) and humid that everybody looked for some cooling. So the president of the club decided to make some breaks to have a bath for all boaters and their families at the pond.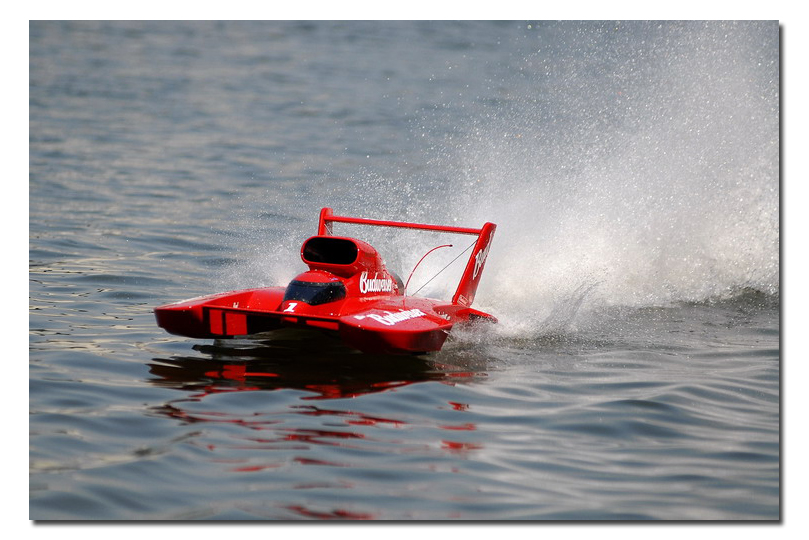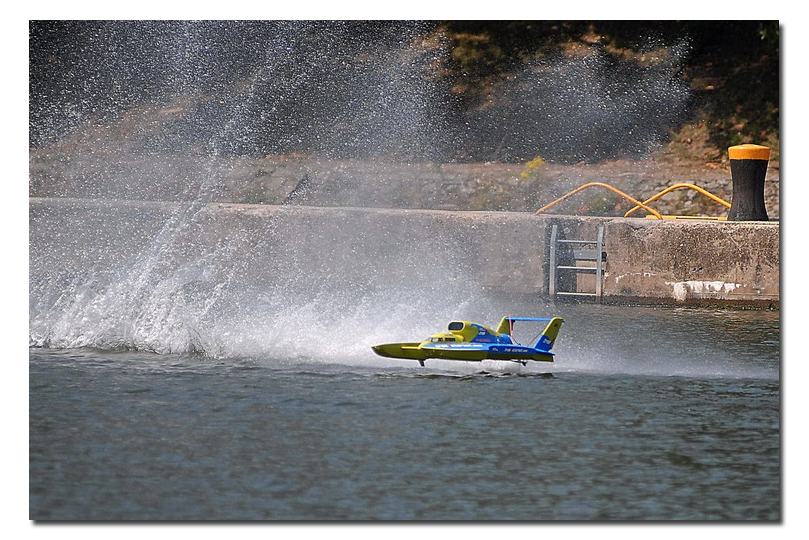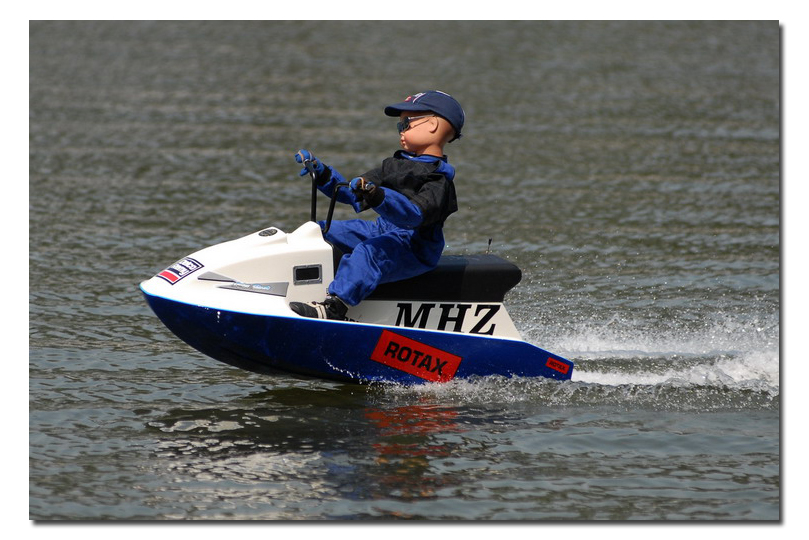 Open water was from Friday to Sunday, from 9 am to 6 pm. To present some special boats (some real fast electric cats and hydros, big gas cats, boats with impressive and expensive paintjobs) they had a time schedule. Of course the well known German manufacturers presented their stuff like engines, hardware, hulls and all kinds of supplies.
During the meeting the club members and their families served good food and cold drinks, coffee and cake. All in all they served more than 90 dishes. Spaghetti (just Friday night), 200 lbs of French fries, 400 sausages, 200 steaks and an unknown amount of beverages and beer. The club also spent 2 barrels of beer on Friday night, which all boaters appreciated.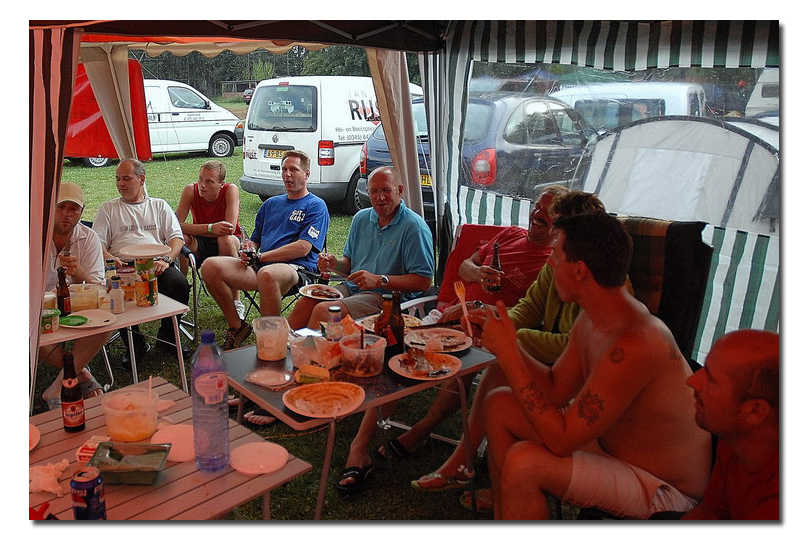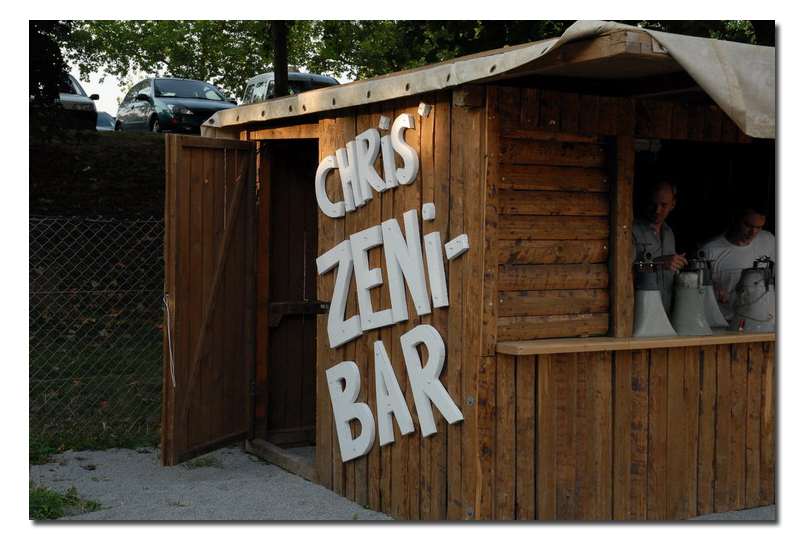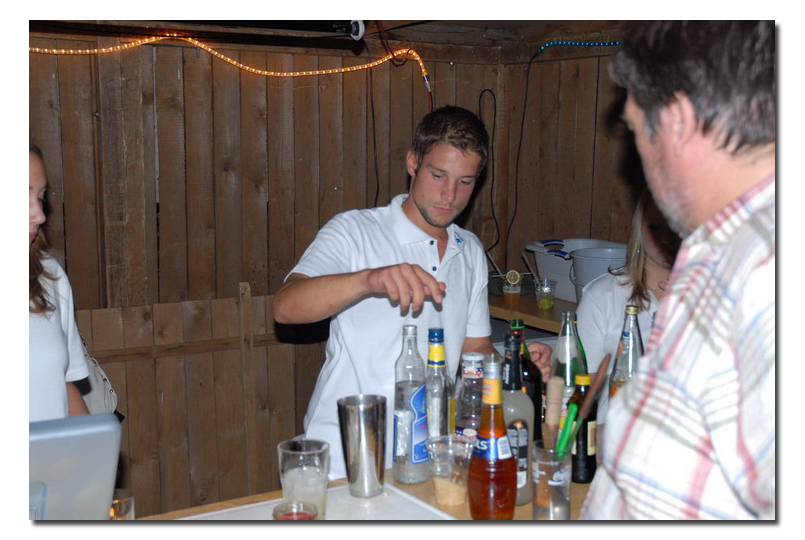 As a special surprise the club opened a cocktail bar at 9:30 pm. One of the members, Chris, is a professional barkeeper and he mixed some real cool drinks with beautiful names like "Powerboat Bomb", "Cat Juice", "Zenoah Juice", and "Nitro Punch" (without alcohol)".
Saturday evening we got hit by some hard thunderstorms and rain. We stopped boating for an hour or two because it was too dangerous. After that the humidity raised and we all felt like we were sitting in a steam bath.
For the overnight guests the club organized a breakfast so the morning started with some good discussions with other boaters and their families.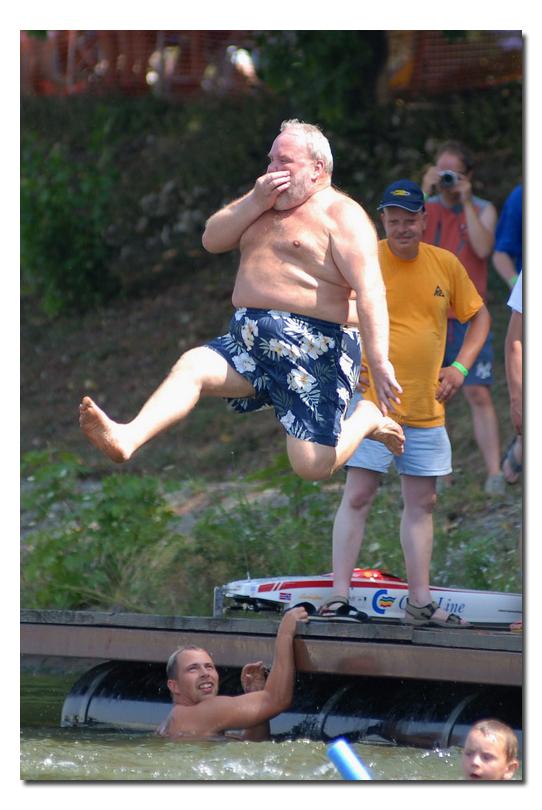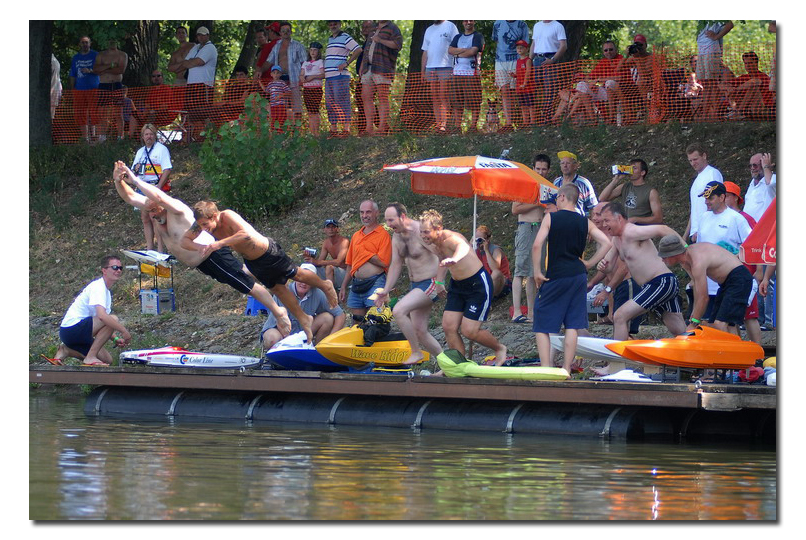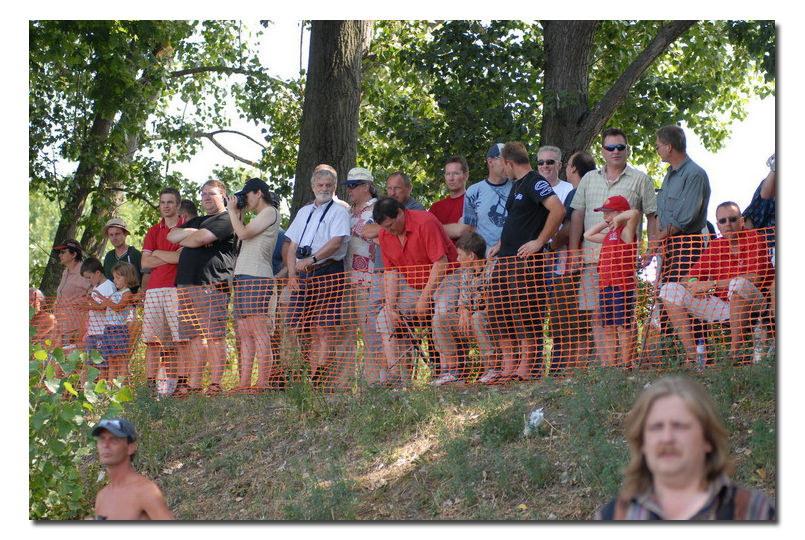 The whole weekend there were 79 boaters, many with their families, with more than 300 boats and hundreds of visitors.
I have to say a BIG THANK YOU to the club and all who helped to make this an unforgettable weekend.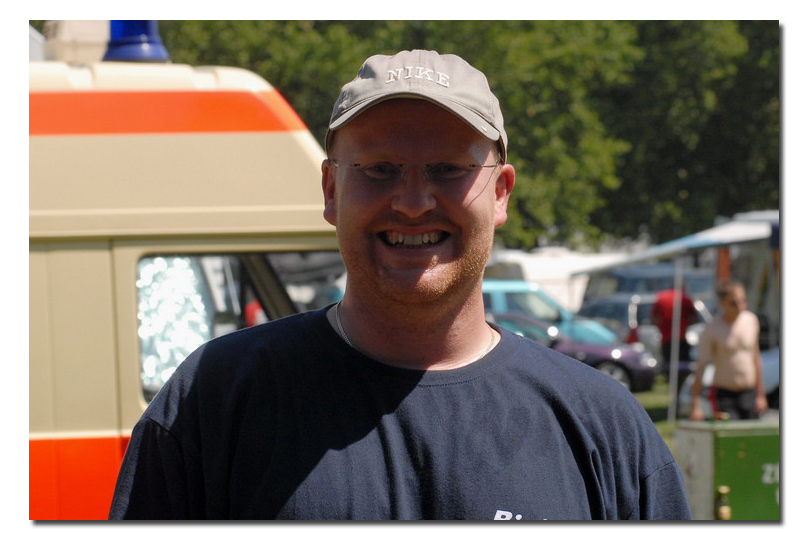 André Abtmeyer