Races/Events Article...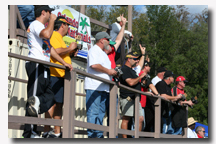 The 2007 Orlando Winter Nationals...a great way to start the racing season!
The 2007 Orlando Winter Nationals started Thursday January 25th and concluded on Sunday January 28th, 2007. Tuesday and Wednesday January 23rd and 24th were open water days. The race is put on annually by the Orlando Culvert Dodgers. They have been hosting the Winter Nats for over 20 years now. This year there were 116 contestants with 393 boats entered in the races. The Winter Nats are a NAMBA sanctioned event.
I flew down with my friend Stephane on Tuesday morning and we were at the pond early in the afternoon. We
met up with Butch Fields who was kind enough to let us pit with him all week. We had taken along 1 boat each with our radio gear. Butch and crew set us up with tools, gas, tables and storage space. We had plenty of time to tune our boats during the 2 days of open water.
Thursday morning, right after the driver's meeting, the racing began! This year the club introduced what they called a "Specialty" day in the schedule. Thursday was this day. The reason it was special is that it included 7 classes which are not normally run in the district: Sport 21, G1 Mono, G1 Catamaran, G1 Sport Hydro, G1 Rigger, Jersey Skiff and Multi Engine Nitro Rigger. There were 100 boats entered in these classes which ran 4 rounds for a total of 72 heats, all in that same day!
The racing format that was adopted for this year was the use of a "half mill" in conjunction with a "30 second clock". There were mixed feelings about this format, but in my opinion it worked quite nicely and I think the majority thought so also.
The weather was pretty good with only some intermittent rain a couple days. Overall it was very good and us northerners enjoyed the Florida sun!
Friday, Saturday and Sunday included the following classes: A-Mod Tunnel, A-Mono, A-Hydro, B-Mod Tunnel, B-Mono, B-Hydro, Sport 40 II, C-Mono, C-Hydro, 1/8 Scale, X-Mono, X-Hydro, Open Offshore, GX1 Mono, GX1 Catamaran, GX1 Sport Hydro, GX1 Rigger, Crackerbox and Open Gas Offshore. Needless to say there was a lot of racing going on!
Everything at this event was very well organized. The hosting club members did an awesome job taking care of everything and making sure things moved along smoothly. There were sufficient portable toilets on site. Coffee, food and other beverages were available at the concession stand every day.
Wednesday night we were all treated to a Louisiana Crawfish Boil put on by Carlo Catalanotto of CC Racing Engines. This was a first for me and I can honestly say I loved it! (enough so that I had seconds on Thursday night!) We all ate to our appetite, relaxed and socialized. This was followed on Friday night by a seafood meal put on by Steve and John Adams and Steve Kauffe. They served Swordfish, Wahoo, shrimp, potato salad, and tossed salad. It was great!
The 2007 Orlando Winter Nationals concluded on Sunday January 28. In the afternoon the trophies were awarded to the winners in each class. After this, we all packed up, said our goodbyes and got ready to leave. All good things must come to an end!
This was my first time attending the Orlando Winter Nationals. It should be obvious by now that I really enjoyed this event. I hope to see everyone again next year and maybe some new faces too. If you haven't yet been to this race you should seriously consider it for next year, especially if you are a northerner like me. What could be better than to race model boats at 70deg plus temperatures in Orlando in the middle of winter!!!
I would like to personally thank the following people:
Brian Watts and all the OCD club members for putting on the event and for welcoming us.
Butch (the Boatman) Fields for letting us pit with him…thank you Butch, it was much appreciated.
Carlo Catalanotto for the awesome crawfish boil…I had been waiting a long time to try this and it was excellent!
Steve and John Adams and Steve Kauffe for the great seafood meal.
All the racers for making this a competitive yet friendly event.
Sponsors of the 2007 Orlando Winter Nationals
Aeromarine Laminates
Atlantis Limousine
Butch the Boatman
C&C Racing Engines
Cooper Pipes
Harvey Hill
Hughey Boats
Insane Boats
Micro Fasteners
Mike Allen
ModelGasBoats.com
MRD Racing Engines
Peter Muller
PropWorks
Rocket City Racing
Steve Allen
Steve Kauff
T-MOD Mufflers
Top Secret Manufacturing
Venom Racing Products
VooDoo Props
Zipp Manufacturing
HEAT RACING RESULTS – 2007 ORLANDO WINTER NATS (Specialty Day – Thursday

Sport 21
Forcier,Pete
Wiebelhaus,Joe
Hutchinson,Dan
Hutchinson,Mike

G1 Mono
Ghattas,Trent
Lind,Richard
Montano,Phil
Levac,Marc
Fields,Butch
Miralles,Sal
Medina,Rey
Wyble,Brent
Hale,Paul
Calogero,Joe
McGurn,Don
Tyson,Mike
Arcelay Jr,Roberto
Folts,Tim
Morales,Billy
Tucker,Kevin
Catalanotto,Carlo
Gonzalez,Giovanni
Sueiro,Allen
Gonzales,Jose
Johnson,Harry
Miller,James
Hemric,Mike
Littler,Scott
Hill,Harvey
Brown,Antron

G1 Catamaran
Michaud,Jeff
McGurn,Don
Calogero,Joe
Tyson,Mike
Hemric,Mike
Arcelay Jr,Roberto
Farrow,Tammy
Ghattas,Trent
Cote,Stephane
Ott,Charlie
Wyble,Brent
Whittaker,Rommell
Fields,Butch
Miralles,Sal
Molina,Abdiel
Hill,Harvey
Medina,Rey
Montano,Phil
Brown,Antron
Littler,Scott

G1 Sport Hydro
Medina,Ross
Sueiro,Allen
Gerdik,Lou
Ghattas,Trent
Mulvaney,Pat
McGurn,Don
Montano,Phil
Calogero,Joe
Ott,Charlie
Brown,Antron
Geiger,Jim
Perez,Sergio
Wyble,Brent
Fields,Butch
Muller,Peter
Coburn,Watson
Littler,Scott
Miralles,Sal
Hill,Harvey
Hemric,Mike

G1 Rigger
Lind,Richard
Michaud,Jeff
Tucker,Kevin
Gonzales,Jose
Hale,Paul
Morales,Billy
Calogero,Joe
Littler,Scott
Montano,Phil
Gonzalez,Giovanni
Perez,Sergio
Brown,John

Jersey Skiff
Muller,Peter
Calogero,Joe
Adams,Steve
Kauff,Steve
Adams,John
Toft-Nielsen,John
Fields,Butch
Farrow,Wayne
Toft-Nielsen,Jack
Medina,Ross
Taggart,John
Newton,Roger

Multi Engine Nitro Rigger
Ingrao,Joe
Foley,Tom
Perez,Sergio

RD 1

300
400
25
0


300
400
300
300
225
169
25
25
400
400
225
300
169
225
400
169
25
25
25
25
25
0
127
25
0
0


400
300
169
400
300
225
225
25
25
25
0
300
400
25
25
0
0
0
25
25


400
300
400
0
225
400
300
25
300
25
25
25
400
25
25
25
25
0
0
0


400
300
300
225
0
225
400
400
25
0
0
0


400
225
300
225
25
400
25
0
300
25
25
25


300
400
0


RD 2

400
0
25
0


400
400
300
225
25
400
225
169
300
25
25
25
25
25
25
300
400
169
225
25
300
0
25
25
25
25


400
400
400
225
300
127
25
225
25
169
25
127
25
300
300
25
25
169
0
0


400
400
300
400
300
300
225
400
25
25
25
225
25
0
0
25
25
25
0
0


400
400
300
25
300
400
25
0
0
0
0
0


400
300
300
225
125
25
169
0
25
300
0
0


400
25
0


RD 3

400
300
225
0


400
300
300
225
400
25
300
400
25
225
400
300
225
169
25
25
25
25
25
225
25
0
0
0
0
0


400
400
400
25
25
0
300
300
225
300
169
25
0
25
25
225
225
0
0
0


400
300
225
400
300
225
300
400
0
300
169
225
25
25
300
225
0
0
0
0


300
400
25
400
400
25
0
0
300
0
0
0


300
225
400
225
400
25
169
300
69
25
127
25


400
25
0

RD 4

300
400
0
0


401
400
400
400
300
300
300
225
25
25
25
25
225
169
127
25
25
225
169
127
25
300
25
0
25
25


400
300
400
400
25
225
25
25
300
25
300
0
25
25
0
25
25
0
25
0


400
400
300
400
225
25
25
0
300
225
300
0
0
400
25
25
0
0
0
0


400
0
400
300
25
0
0
0
25
0
0
0


400
400
127
225
225
300
169
200
25
25
0
25


0
0
0

FINAL

1400
1100
275
0


1501
1500
1300
1150
950
894
850
819
750
675
675
650
644
588
577
519
475
444
444
402
375
300
177
50
50
50


1600
1400
1369
1050
650
577
575
575
575
519
494
452
450
375
350
275
275
169
50
25


1600
1400
1225
1200
1050
950
850
825
625
575
519
475
450
450
350
300
50
25
0
0


1500
1100
1025
950
725
650
425
400
350
0
0
0


1500
1150
1127
900
775
750
532
500
419
375
152
75


1100
450
0
HEAT RACING RESULTS – 2007 ORLANDO WINTER NATS (Friday, Saturday, Sunday)

A Mod Tunnel
Hutchinson,Dan
Erwine,Gary
Junker,Zachary
Forcier,Pete
Otto,John
Atwell Jr,Mitch
Hearl,Steve
Wittrig,Chris
Adams,Robert
Halbrehder,Jay
Halbrehder,Mic
Connor,Carol
Hutchinson,Mike

A Mono
Lind,Richard
Kindred,Josh
Hearl,Steve
Weinman,Joey
Hartley,Fred
Morales,Billy
English,Brandon
Coburn,Watson
Hutchinson,Dan
Forcier,Pete
Simons,Willis
Perez,Lupe
Jeffcoat,Glover
Brown,Shawn

A Hydro
English,Brett
Muller,Peter
Kindred,Ray
Forcier,Pete
Coburn,Watson
Grim,Chris
Brown,Shawn

B Mod Tunnel
Erwine,Gary
Otto,John
Forcier,Pete
Wittrig,Chris
Hearl,Steve
Connor,Garson
Halbrehder,Mic
Adams,Steve
Atwell,Tony
Halbrehder,Jay
Atwell Sr,Mitch
Robson,Bobbie
Junker,Rich

B Mono
Weinman,Joey
Hartley,Fred
Coburn,Watson
Jeffcoat,Glover
English,Brandon
Robson,Bobbie

B Hydro
Junker,Rich
Foley,Tom
Muller,Peter
English,Brett
Wittrig,Chris
Hendricks,Rod
Perez,Sergio

Sport 40 II
Kindred,Josh
St.Clair,Jack
Adams,Steve
Wiebelhaus,Joe
Walter,Perry
Hearl,Steve
Walter,Mark
Hemric,Mike

C Mono
Williamson,Brian
Jeffcoat,Glover
Timmons,Keith
Forcier,Pete
Simons,Willis
Robson,Fred

C Hydro
Perez,Sergio
Timmons,Keith
Grim,Chris


1/8 Scale
St.Clair,Jack
Walter,Perry
Gualtieri,Steve
Hartley,Fred
Allen,Mike
Wiebelhaus,Joe
Ingrao,Joe
Walter,Mark
Newton,Roger
Gerdik,Lou

X Mono
Foley,Tom
Williamson,Brian
Jeffcoat,Glover
Robson,Fred

X Hydro
Foley,Tom
Timmons,Keith
Allen,Mike
Perez,Sergio
Wittrig,Chris
Ingrao,Joe

Open Nitro Offshore
Hearl,Steve
Robson,Fred
Simons,Willis

GX1 Mono
Anderson,Scott
Miller,David
Lind,Richard
Hilldale,Michael
Hale,Paul
Folts,Tim
McGurn,Don
Miller,Jason
Ghattas,Trent
Stutz,Kurt
Sueiro,Allen
Medina,Rey
Gonzalez,Giovanni
Reyes,Alex
Miralles,Sal
Arcelay Jr,Roberto
Tremblay,Lou
Wyble,Brent
Gonzales,Jose
Arencibia,Bert
Morales,Billy
Metcalf,Lance
Tucker,Kevin
Yancey,David
Fields,Butch
Johnson,Harry
Calogero,Joe
Catalanotto,Carlo
Miller,James
Montano,Phil
Geiger,Jim
McCarthy,Tom
Garcia,Robert
Medina,Ross
Oliveira,David
Whitney,Mike
Hermes,Dan
Brown,Antron
Hemric,Mike
Molina,Edgardo
Hendricks,Rod
Mulvaney,Pat
Kauff,Steve
Adams,Robert
Littler,Scott
Skelton,Wayne

GX1 Catamaran
Fields,Butch
Hemric,Mike
Calogero,Joe
Michaud,Jeff
Stutz,Kurt
McGurn,Don
Ghattas,Trent
Miralles,Sal
Montano,Phil
Hendricks,Rod
Tremblay,Warren
Hilldale,Michael
Tucker,Kevin
Brown,Antron
Connor,Garson
Acanda,Luis
Metcalf,Lance
Whittaker,Rommell
Arcelay Jr,Roberto
Garcia,Robert
Rivard,Joe
Medina,Rey
Miller,Jason
Whittington,Keven
Oliveira,David
Molina,Abdiel
Adams,Steve
Mulvaney,Pat
Kauff,Steve
McCarthy,Tom
Whitney,Mike
Reyes,Alex
Morse,Arthur
Miller,James
Ott,Charlie
Cote,Stephane
Connor,Carol
Wyble,Brent
Yancey,David
Adams,Robert
Littler,Scott

GX1 Sport Hydro
Traut,James
Sueiro,Allen
Anderson,Scott
Medina,Ross
Rivard,Joe
Fields,Butch
Juranko,Dan
Montano,Phil
Ott,Charlie
Brown,Antron
Morse,Arthur
Wiebelhaus,Joe
Muller,Peter
Foley,Tom
Whittington,Keven
Calogero,Joe
Gerdik,Lou
Ghattas,Trent
Allen,Mike
Hilldale,Michael
Yancey,David
Coburn,Watson
Adams,John
Metcalf,Lance
Perez,Sergio
Wyble,Brent
McGurn,Don
Kauff,Steve
Newton,Roger
Smith,Robert
Connor,Garson
Miller,James
Taggart,John
Adams,Steve
Meltcher, Scoobey
Littler,Scott
Miralles,Sal

GX1 Rigger
Traut,James
Hale,Paul
Miller,David
Michaud,Jeff
Lind,Richard
Calogero,Joe
Tucker,Kevin
Allen,Mike
Morse,Arthur
Foley,Tom
Montano,Phil
Morales,Billy
Kauff,Steve
Perez,Lupe
Brown,John
Medina,Ross
Gonzalez,Giovanni
Littler,Scott
Perez,Sergio

Crackerbox
Stutz,Kurt
Montano,Phil
Arencibia,Bert
Hilldale,Michael
Michaud,Jeff
Miller,David
Fields,Butch
Allen,Mike
Gerdik,Lou
Kauff,Steve
Metcalf,Lance
Adams,Steve
Miralles,Sal
Geiger,Jim
Taggart,John
Mulvaney,Pat
Ott,Charlie
Catalanotto,Carlo

Open Gas Offshore
Ghattas,Trent
Miller,David
Hendricks,Rod
McGurn,Don
Lind,Richard
Miller,Jason
Gonzalez,Giovanni
Hale,Paul
Medina,Rey
Arencibia,Bert
Oliveira,David
Gonzales,Jose
Morales,Billy
Whitney,Mike
Fields,Butch
Tucker,Kevin
Arcelay Jr,Roberto
Reyes,Alex
McCarthy,Tom
Acanda,Luis
Sueiro,Allen
Molina,Edgardo
Garcia,Robert
Levac,Marc
Miller,James
Tyson,Mike
Tremblay,Lou
Hermes,Dan
Catalanotto,Carlo
Skelton,Wayne
Hemric,Mike
Kauff,Steve
Molina,Abdiel

RD 1

400
225
300
0
300
25
400
0
225
0
0
25
0


400
300
400
225
0
0
169
25
0
127
25
0
0
0


400
300
25
169
225
0
0


25
400
0
400
0
0
25
25
0
25
25
0
0


300
400
25
25
25
25


300
25
400
225
25
25
0


169
300
0
25
0
400
225
0


400
300
225
25
0
0


0
400
25



400
400
225
300
0
25
225
300
25
169


400
25
25
25


0
0
0
25
0
0


400
300
0


400
225
400
400
400
225
25
25
25
25
400
169
300
300
300
225
25
225
169
0
25
127
25
25
400
25
225
300
300
25
25
0
25
25
25
25
0
25
25
25
0
25
0
0
0
0


400
400
300
400
400
400
225
225
225
400
169
25
300
25
300
300
300
225
25
300
169
225
25
0
169
0
25
25
0
0
25
25
25
25
25
25
25
25
25
0
0


400
400
300
400
225
400
225
300
400
400
25
25
25
300
0
25
169
225
300
225
300
25
300
25
25
25
25
25

225
0
25
0
0
0
0
0


400
400
225
300
0
0
400
400
225
300
0
0
25
25
0
0
0
0
0


300
225
400
300
400
25
400
0
300
225
0
25
25
25
225
169
0
0


400
400
400
25
400
225
300
25
300
25
225
225
0
300
25
400
0
25
25
300
300
0
25
225
0
25
25
0
25
25
0
0
25


RD 2

400
300
225
225
25
400
25
25
169
300
25
25
0


400
25
127
225
400
25
25
25
0
169
25
300
25
0


400
25
300
25
0
25
0


225
300
300
400
400
169
25
225
0
25
0
0
0


300
400
25
225
25
0


25
400
0
25
25
25
0


300
25
25
400
25
25
25
0


400
225
300
25
0
0


0
25
0



400
300
400
300
169
169
225
25
225
0


400
300
25
0


400
300
0
0
0
0


400
0
25


400
400
300
300
300
400
300
127
25
400
169
25
169
400
300
225
225
25
225
300
225
25
127
225
25
400
169
25
0
25
25
225
169
25
25
25
25
25
0
25
25
0
0
0
0
0


400
400
300
225
400
25
400
300
0
400
25
300
25
400
25
225
169
25
25
225
25
0
127
0
0
300
0
25
0
300
169
25
0
25
25
0
0
0
0
0
0


400
300
300
400
300
400
400
225
225
225
300
225
25
169
0
25
300
0
25
25
169
25
0
400
400
169
25
25

0
25
0
0
0
0
0
0


300
400
400
225
400
400
25
25
225
0
300
300
0
0
0
0
0
0
0


300
400
225
25
300
400
25
400
25
25
25
25
25
25
0
0
0
0


400
400
300
300
300
400
25
225
400
400
225
225
225
25
200
25
225
0
25
25
25
25
0
0
169
169
100
25
25
25
25
25
0


RD 3

400
400
300
300
25
25
25
25
25
25
225
25
0


300
400
400
225
225
300
25
0
25
25
25
0
25
0


400
300
0
225
25
25
0


400
225
300
25
400
300
169
127
225
25
25
25
0


400
0
300
0
25
25


400
225
300
25
25
25
0


300
225
169
25
400
25
0
0


400
225
127
169
300
0


400
0
25



400
25
25
25
400
300
25
0
25
25


400
225
300
0


400
25
0
0
0
0


400
300
0


400
400
300
400
169
225
300
400
400
0
225
300
0
25
25
169
300
25
0
0
25
300
25
225
25
25
25
25
25
225
25
0
0
25
0
25
25
0
25
0
0
0
25
0
0
0


300
400
400
300
25
400
400
25
300
0
225
225
400
300
0
169
127
400
300
25
25
225
169
225
225
25
300
127
25
25
96
225
25
25
25
25
0
0
0
0
0


300
300
400
225
400
400
169
300
225
169
225
225
300
25
400
400
169
0
225
127
25
400
127
0
0
169
300
25
300
0
25
0
0

0
0
0


400
300
225
300
400
225
25
400
169
400
25
300
300
0
0
0
0
0
0


400
225
25
400
25
400
300
300
127
25
300
25
25
169
0
0
25
0


400
300
300
400
0
25
400
400
25
400
25
25
225
300
300
25
225
169
169
25
25
225
0
0
25
0
25
69
25
0
25
25
0


RD 4

26
300
300
225
400
25
0
400
25
0
25
0
0


400
400
25
25
25
225
169
300
300
0
225
0
25
0


0
300
400
25
25
0
0


400
25
300
25
25
300
400
225
0
0
0
0
0


400
25
25
25
25
0


400
300
225
25
0
0
0


400
0
300
0
25
0
0
0


25
25
0
400
0
0


26
0
300















400
0
0
0


400
0
26
0
0
0


400
0
25


300
400
400
225
300
225
400
400
400
400
25
300
300
0
25
25
25
300
169
225
225
25
300
0
25
0
0
25
25
25
225
0
25
25
25
0
25
0
0
0
0
0
0
0
0
0


401
300
400
225
300
300
0
400
400
25
400
225
25
0
400
0
96
25
300
0
300
25
127
169
0
25
25
169
300
0
0
0
225
169
0
0
0
0
0
0
0


400
401
400
300
400
25
300
25
0
25
225
300
400
225
300
225
0
400
25
169
0
25
0
0
0
25
25
300

0
25
25
25
25
0
0
0


301
300
400
400
300
225
400
25
225
25
400
0
25
25
0
0
0
0
0


400
300
400
300
300
25
25
0
169
225
169
400
225
25
0
0
25
0


400
400
300
400
400
400
225
300
225
25
300
300
300
0
25
25
0
200
169
25
0
0
225
0
0
0
25
0
0
0
0
0
0


FINAL

1226
1225
1125
750
750
475
450
450
444
325
275
75
0


1500
1125
952
700
650
550
388
350
325
321
300
300
75
0


1200
925
725
444
275
50
0


1050
950
900
850
825
769
619
602
225
75
50
25
0


1400
825
375
275
100
50


1125
950
925
300
75
75
0


1169
550
494
450
450
450
250
0


1225
775
652
619
300
0


426
425
350



1200
725
650
625
569
494
475
325
275
194


1600
550
350
25


1200
325
26
25
0
0


1600
600
50


1500
1425
1400
1325
1169
1075
1025
952
850
825
819
794
769
725
650
644
575
575
563
525
500
477
477
475
475
450
419
375
350
300
300
225
219
100
75
75
75
50
50
50
25
25
25
0
0
0


1501
1500
1400
1150
1125
1125
1025
950
925
825
819
775
750
725
725
694
692
675
650
550
519
475
448
394
394
350
350
346
325
325
290
275
275
244
75
50
25
25
25
0
0


1500
1401
1400
1325
1325
1225
1094
850
850
819
775
775
750
719
700
675
638
625
575
546
494
475
427
425
425
388
375
375
300
225
75
50
25
25
0
0
0


1401
1400
1250
1225
1100
850
850
850
844
725
725
600
350
50
0
0
0
0
0


1400
1150
1050
1025
1025
850
750
700
621
500
494
475
300
244
225
169
50
0


1600
1500
1300
1125
1100
1050
950
950
950
850
775
775
750
625
550
475
450
394
388
375
350
250
250
225
194
194
175
94
75
50
50
50
25





































































































DQ

3th
1st
2nd


5th
4th