Races/Events Article ...
Coverage of this event by Rudy Hilado...
2003 Winter Nats were held January 16-19, in Mulberry FL. It was a NAMBA sanctioned race hosted by the Orlando Culvert Dodgers.
The Winter Nats included both nitro and gas classes for a total of 22 different boat classes. The gas boaters were well supported as there were 9 classes for gas boats alone, with 112 hulls entered (although the there were a few boats that ran in multiple classes).
It was a cold and blustery first day at the 2003 Winter Nats. The temperature
dropped to the low 50's from the high of about 72 on the previous day. The winds were whipping up the course, creating frequent whitecaps--not ideal conditions for a boat race. The racers and spectators alike bundled up and the racing was on! With the weather conditions, it was difficult for the boats to hit top speeds. It turned out to be more a race of survival. Conservative and defensive driving ruled the day and every boat class had difficulty navigating the course.
The second day of racing offered only minor improvements. It was still very cold and windy. The weather
didn't help the racers run the very long offshore course. The offshore course was one of the longest I've seen, with 3 buoys placed what seemed like several hundred feet away from the right side of the course, the boats were only little specks with a roostertail when rounding the furthest buoy.
There was still some spectacular racing. A exciting race was heat 66 in GX-1 Mono. It began with a clean start with Tony Cordoso in the lead with his very fast Seducer. Close behind was Don Nehls with his Lazer 45.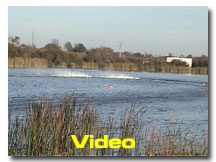 In third was Bill Sydor and his Microburst.
Tony was very fast but made a wide turn on the second lap, which was enough for Don to squeeze by on a well executed inside pass. On the next straight, Tony's Seducer was making up the gap heading back to an inside lane, but was forced to make an outside pass on the next turn. Unfortunately, he had to cross Don's wake and in the blink of an eye Tony's Seducer was gone! His boat did a complete submarine! Tony's boat was submerged long enough for Bill, who was quietly following the leaders, to zip near
ly over his boat. With Tony out, Bill was putting the pressure on Don, slowly reeling him in . Don may have felt the pressure as he came too close when rounding the buoys on the next lap and he
smacked on of the buoys doing a 360 right in front of Bill. Swinging wide, Bill avoided a collision and this was enough catch up and slip by and go on to win the heat on the last lap.
Finally, by Sunday the weather cooperated and the winds died down and the day heated up, as did the racing. With relatively calm waters, the racers were able to really let their boats unwind. I was amused to overhear a conversation from some of the nitro boaters that were standing nearby, watching the gas riggers run.
They remarked how big the riggers were and how fast the boats were racing. One boater commented, "Wow, they look as fast as the nitro boats. I need to take a closer look at them after the race!".
All the racing classes were exciting. There were so many monos running it required they had to race in 7 groups (4 G-1, 3 GX-1). For all out speed, Jerry Crowther's new gas Seducer was very impressive. He was still testing and tweaking the hull,
but it looks very promising. All
the Seducers were fast, as were the AC Lazer's, both the 40s and 45s. The catamaran class was also very large and it needed 5 groups (3 G-1, 2 GX-1). The racing was a little tougher for the cats during the heavy weather, and there were some exciting blow overs and dunks! But when it calmed down, the cats really scooted along! Offshore Models was well represented with several
Super Cats, as was Aeromarine with many Sprint and Avenger cats. Strykers were present as was the new Insane cat, which Scott Littler, in his first major race, was able to drive very consistently. The sponson extensions on the Supercat became affectionately known as the "wheelie bars" as they seemed (real or perceived) to help keep the cat on the water when the bow gets lifted in a gust of wind! The sport hydros, while represented by a fewer number of boats, had some of the more exciting races, accented by the vocal but friendly sparring between the Performance International and Hoover camps. Sport hydros are beautiful boats to watch race.
With all the new motors, props, and hulls, the racing this season should continue to be very exciting.
There were a couple of large groups that traveled long distance to attend the Winter Nats. One group (Puerto Rico Mini Offshore, PROMO Racing) came all the way from Puerto Rico. They had a large number of gas boats with them, and each one was nicely appointed with a couple of them adorned with some very interesting deck work. Their boats were very fast and competitive. Amazingly enough, they managed to bring all their boats and equipment by checking them as luggage with the airlines! A very dedicated group!
Another group of gas boaters came up from Miami from the Racing Association of Miami. They brought with them many beautiful boats that ran very fast. Some of the best paint jobs were on hulls from the members of this club. Manny Vega was involved in a nasty crash with his Avenger, but he managed to patch it up on-site and keep competing for the rest of the weekend.
With the rough weather, there were many spectacular crashes, wipeouts and collisions. Several boats had the misfortune of dunking, flipping, and colliding, and occasionally, a boat would be used as a jumping ramp.
The videos are in Windows .wmv format. Netscape users should right-click and save videos to hard disk before viewing.
Even though the racing was exciting, an additional benefit to attending a racing event is getting to meet
many different model boaters and establish new friendships. It was great to meet in person so many boating enthusiasts that I've known through the Internet on Jim's RC Boat Dock. I was able to enjoy having dinner with Alan Gemuendt (Toxic Marine) and discuss the joys and perils of racing a boat that was just built days before the race! I was also fortunate enough to spend an evening with Bill Sydor and Cornell from MidWest Engines, along with Eddy Barns from Offshore Models, enjoying the fine food, sights and sounds at the local Applebees. It was intoxicating to hear about race strategies, boat and motor theory, and hear the inside scoop on model boating from these guys. A great group of people!
The Winter Nats was a large race and it required the hard work of many people to make it happen. I'd would like to give kudos to the Orlando Culvert Dodgers for putting on a fine event. They were well organized and the whole weekend seemed to run very smoothly. Special thanks to Brian and Ellie Watts (RocketCityRacing) for being so friendly and accomodating and for their efforts to support and promote model gas boating. The Winter Nats also had a lot of help from sponsors, and some of those that promote gas boating include Ballantine Boats, Insane Boats, MidWest Engines, Offshore Models and RocketCityRacing.
I look forward to getting another opportunity to attend other large racing events! It's an experience that I would recommend to any model boat enthusiast!
Here are the results from the gas classes at the 2003 Winter Nats.
G-1 Mono (25 boats entered)
1. Danny Villarreal (Seaducer, mod G23) 1425 pts.
2. Jerry Crowther (New Gas Seaducer, mod? G260) 1225 pts.
3. Harry Johnson (Hydrokinetic, M&D 23 hybrid) 1225 pts.
(run-off for 2nd and 3rd)
4. Allen Suiero 1100 pts.
5. Bill Sydor 1025 pts.
GX-1 Mono (20 boats entered)
1. Scott Anderson (AC Lazer 40, QD25) 1500 pts.
2. Danny Villarreal (Seaducer, mod G23) 1400 pts.
3. Anthony Melkey (Challenger 48, QD25) 1269 pts.
4. Tony Blanco 850 pts.
4. Frank Rubio 850 pts.
4. Don Nehls 850 pts.
5. Scott Littler 825 pts.
G-1 Catamaran (15 boats entered)
1. Johnny Ber (Aeromarine Team USA, CC Racing G260) 1325 pts.
2. Bill Sydor (Sprintcat, MidWest G260?) 1225 pts.
3. Jose de Jesus (Sprintcat, Bonzi Sports G260) 1194 pts.
4. Don Nehls 1125 pts.
5. Michelle Anderson 850 pts.
GX-1 Catamaran (10 boats entered)
1. Ron Ratoff (Supercat, M&D 260) 1050 pts.
2. Anthony Melkey (Supercat, QD25) 1000 pts.
3. Jose de Jesus (Sprintcat, Bonzi Sports G260) 1000 pts.
(run-off for 2nd and 3rd)
4. Don Nehls 994 pts.
5. Scott Littler 852 pts.
G-1 Rigger (7 boats entered)
1. Bill Sydor (MidWest, Midwest) 1600 pts.
2. John Brown (?, ?) 650 pts.
3. Ron Ratoff (MidWest, M&D G260) 469 pts.
4. Johnny Ber 325 pts.
5. Don Nehls 275 pts.
GX-1 Rigger (7 boats entered)
1. Bill Sydor (MidWest, QD25?) 1225 pts.
2. Don Nehls (Eagle SGX, M&D hybrid?) 625 pts.
3. Joe Rubio (Coyote Rigger, QD25) 600 pts.
4. John Brown 300 pts.
5. Mike Knight 25 pts.
G-1 Sport Hydro (5 boats entered)
1. Andy Millet (PI Hydro, M&D hybrid) 950 pts.
2. Chris Herzog (Hoover Hydro, CC Racing G260) 825 pts.
3. Mike Knight (PI Hydro, mod G230RC) 575 pts.
4. Randall Cartright 494 pts.
5. Gene Fuselier 50 pts.
GX-1 Sport Hydro (5 boats entered)
1. Chris Herzog (Hoover Hydro, CC Racing G260) 1225 pts.
2. Joe Rubio (PI Hydro, QD25) 1025 pts.
3. Andy Millet (PI Hydro, M&D hybrid) 25 pts.
4. Richard Spring 0 pts.
5. Gene Fuselier 0 pts.
Gas Open Offshore (18 boats entered)
1. Ron Ratoff (Supercat, M&D G260) 1300 pts.
2. Don Nehls (Supercat, M&D G260) 1225 pts.
3. Allen Suiero (Hyperspeed, ?) 1225 pts.
4. Bill Garrett 1225 pts.
(run-off for 2-4)
5. Frank Rubio 975 pts.