Races/Events Article ...by Wes Young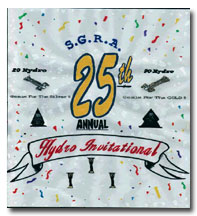 Race coverage...
First of all I would like to congratulate, Richard Scallan and Danny Ragusa who were the CD's and the Southern Gentlemen Racing Association for putting on a first-class event. With over 107 boats registered including 14 twins, I knew this was going to be a race to remember. When my son Evan and I pulled into the SGRA race site early Friday morning, we were amazed at how many racers were all ready set up and running there boats. Looking around at the caliber of competition, made up for the trip down from Atlanta GA.
I noticed there were a quite a few boaters from out of state, and even other countries. Yes other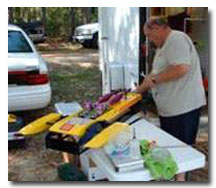 countries, would you believe that Bill Annabel flew in from Australia in order to be a part of this coveted race. Bill has been boating for about 25 years and has run most types of boats. He is currently the President of the Australian Model Power Boating Association, there national body (like IMPBA) and have been fortunate enough to have been able to travel and compete in a number of events in the states.
Bill retired in 1989 and had his first trip to the states and raced in the Internats at Slidell. He and his wife love the states, they come back and travel (for about 3 months) each year, for a number of years. They actually plan there travels around the IMPBA race schedule and went to a number of the smaller club races.
They have met a lot of people and had some great times. Bill went back into business in 94 so that was the end of the traveling. They had not traveled for some 10 years, and decided to come back this year and do a couple of races. Bill really wanted to visit Slidell and compete in the Hydro Invitational again, so they raced at Crosby and then Slidell. Bill said, It's been great to see so many of the friendly faces we know are still in boating.
Bill told me, he really enjoyed racing and was more than happy with his results. In Australia they believe they're a long way from the 'home' of boating and it is great to see that the Australians are competitive and can keep up with the boaters in the USA. Bill is all ready looking forward to next years race season. There AMPBA is planning to host a team to compete in both the NAMBA and IMPBA Nats next year. Early indications are that they should have around 8 -10 boaters coming to enjoy the racing and companionship of our fellow boaters from the states. Remember we all have a lot in common and, it has been Bill's experience, boaters from both our countries greatly enjoy each others company.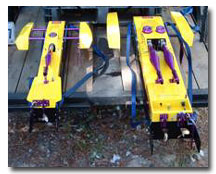 As you can see Bill had some very impressive looking riggers. Don't get me wrong, there were also some very impressive USA home town boats.
There was an ominous glare around buoys 4 & 5, and as a driver you really were dependent on your pit person to find those dead boats. They too had to depend on the constant reminders from the CD's and corner marshals. If I recall there were only a few mishaps, you know bumps and rubs hey, Rubbin's Racing! I recall there was this one incident that was a little unusual. While racing in a heat, Andy (Wild Man) Millet's antenna fell off his transmitter. You can imagine what happen next, his Performance International Sport Hydro veered of course and ran into the bank. The good news was that he didn't hit any other boats or persons. The hull sustained a little damage but after adding some eighty mile an hour duct tape, Andy was ready for the next round.
In Twin Engine Hydro, Ernie Lafleur had a perfect score (1600 points) going into the final round. Bill Annabel ran the heat
before him and won this matched Ernie's total but Ernie was yet to race. Ernie and Bill were on the same channel so they had not met head to head. Ernie needed just to start for the win. Instead, Ernie scratched his boat for heat 5 to force a runoff and changed crystals. The two Eagle twins came to the start with Bill about a boat length in front. Unfortunately Graham was called over so he started a lap down. After 5 laps Bill had made up about a half of a lap but stuffed it in the final lap. For Ernie to give up a shot at a perfect 2000 point score, just to race Bill and see who was "THE MAN" was great to see. You had to be there, what a run, those guys can drive! (Tony Kilbarger)
The SGRA HYDRO INVITATIONAL is one of the oldest and best races in the Country. The race celebrated its SILVER Anniversary year in 1998 (25 Years) and the race is getting stronger every year. The history of this race attracts people from all over, here in Louisiana, Alabama, Mississippi, Georgia, New York, Arizona, Florida, and Alan Hobbs has come down from Montana every year for over nine years. If people come from all over the country for this race it must be good. Now the SGRA has something even better for racers, about a year and a half ago they made a transformation to a full size course which gives boaters more room to race and makes it a full regulation course. Another reason this race is special is because of a concept they started.
GO FOR THE GOLD and the GO FOR THE SILVER.
These are the top notch racers, they consist of the Best of the Best. The GO FOR THE SILVER is represented by the top 7 finishers of the 20 class put into one heat and there is only one winner. Also to really make it the best of the best Any Infraction and you will be asked to pull back into the pits. So no cutting buoy's or lane infraction warnings are allowed. This is why this race is so first-class, the same concept goes for the GO FOR THE GOLD except the 7 boats in this race are the top 7 RUN WHAT YA BRUNG (OPEN) boats. The winners of these races get the glass trophy in which only two are given out a year and only at this race, ONE FOR THE SILVER AND ONE FOR THE GOLD but only the first place finishers, second doesn't matter in these two races. Another thing at the HYDRO INVITATIONAL is the Collector MAN TROPHY that is given out every year once a year only at this race.
Some SGRA Club History:
The Southern Gentlemen Racing Association began in 1972 when it split away from the New Orleans Power Boaters because the power boaters were not interested in competitive racing. Since then the club has only thrived and grown, getting bigger and bigger each year. The club is going through its 30th year now. The SGRA currently holds three dual day races and 6 club races a year. The first two day race is the Spring Extravaganza. The Extravaganza was originally the Mono Invitational but was changed a few years ago to the Southern Classic and now the Spring Extravaganza. The race is now open to all size Monos, Hydros, and Gas Mono and Hydro.
The new weekend race is our new SGRA Gas Bash that is a race for every kind of Gas class possible. The third two day race is one of the most famous races in the IMPBA. This is the Hydro invitational. This race celebrated its 25th year October 24th and 25th of 1998. This race always was big and still remains one of the greatest races. The Invitational has been in Boat modeler magazine 5 times as this really is famous. The Invitational is known for its two races that are run at the end of the second day: The Go For the Gold and Go For the Silver. The club is now located just above New Orleans and Lake Pontchartrain in Slidell Louisiana. They moved to this location in 1987 and have held the 1989 Internats and 2002 Gas Nats.
So boaters if you are up to some of the most competitive racing, friendly people and GREAT FOOD, mark the early part of November 2004 on your calendar. I'm not sure of the actual dates for next year.
2003 Hydro Invitational Winners
Past Winners
Go For The Silver

Invitational/Year/Racer/Hull

17th 1990 Roger Hincks Almost Nothin'
18th 1991 Kevin Sanders Coyote
19th 1992 Unknown will be updated
20th 1993 Marc Ohler Pro
21st 1994 Adam Wagner Cobra
22nd 1995 Adam Wagner Cobra
23rd 1996 Danny Ragusa Cobra
24th 1997 John Brown Eagle
25th 1998 John Brown Eagle SG
26th 1999 John Brown Eagle SG
27th 2000 Ernie LaFleur Tunnel Hull
Go For The Gold

Invitational/Year/Racer/Hull
17th 1990 Don Wagner Cobra
18th 1991 Donnie Crow Daytona
19th 1992 Danny Ragusa Cobra
20th 1993 Ronnie Zumo Cobra
21st 1994 Donnie Crow Cobra
22nd 1995 Jason Sharbonno Cobra
23rd 1996
24th 1997 John Reagan Catamaran
25th 1998 John Lalonde Jr. Tigercat
26th 1999 Dale Richard Cobra
27th 2000 Bobby Himel Jaguar