Product Review Article ...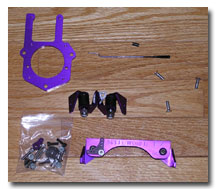 The new EZ Mounts from RC Speedworld...
Dr. John at Speedworld continues to push forward and improve his products. His latest advancement is another update to his Speedworld EZ Motor Mounts (you can see previous reviews of his motor mounts in Issue #5 and Issue #6). His new mounts now have a coil relocation bracket built into the pull start plate. This bracket allows the ignition coil to be moved from the side of the motor and put up above the flywheel coil. This is helpful when the motor is mounted in a deep V hull where the ignition coil can get in the way and not allow the motor to sit as low as possible. It also moves the spark plug wire so it is out of the way of the throttle bell crank system.
Unlike other popular coil relocation brackets, this one is integrated onto the pull start plate. This allows the pull start to be removed without having to deal with also handling the ignition coil. The bracket is also tall enough to allow the pull start to be rotated with the pull cord at the top. Also, by having the pull start rubber brackets mounted in the downward position, you can have the pull start mounted with the pull cord on the side of the motor. Additionally the ignition coil can be mounted with the spark plug wire going to the right or to the left.
The Speedworld EZ Mounts continue to feature mount bolts that allow the motor to be removed taking out four bolts that are easily accessible from the top of the motor. The machine work is very sharp and clean, but on the mounts that I had for the review, I noticed that the collet-side bracket seemed to be cut incompletely which caused a very tight fit on the motor. It is small problem can be easily fixed by using a file to provide a little additional clearance and rounding off the corners.
The mount kit includes all the parts required to mount your Zenoah or QD motor, including the throttle bell crank system, but you will need to use the existing ignition coil and pull start bolts that came with your motor.
The updated EZ Offset mount with coil bracket is well made and very adaptable. It can support many different pull start, coil, and motor mounting positions!
Specifications:

Motors supported: Zenoah PUM, or Quickdraw
Cost: $59.95 + shipping
Contact information:
John Mantesta (aka Doc John)
Phone: (954) 724-4343
E-mail: This email address is being protected from spambots. You need JavaScript enabled to view it.
Website: www.rcspeedworld.com