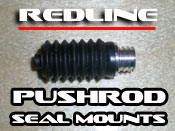 A look at this great new product from Redline Motors!
Every once in a while a new product comes out on the market that makes you say "Now why didn't I think of that!?!"... well the Pushrod Seal Mounts from
Redline Motors
are a perfect example of this! They are so simple in design yet so very functional you wonder how it took so long for someone to come up with the idea.
I first noticed them on
RCBoatBid.com
and just had to give them a try. I ordered a pair and received them very promptly.
The pushrod mounts are machined from aluminum and are designed to work with
Aeromarine Laminates
radio box seals (p/n: 6018) to provide a positive seal yet allow for easy maintenance.
Pair of seals. This what you get.
Notice the 3 small grooves on the end that is to be glued into the radio box. The large groove at the opposite end is for the seal to fit onto.
Shown here with the Aeromarine 6018 seals. *note: seals not included with the mounts.
Seal installed on the mount ready to be mounted to the radio box. The fit is nice and tight and will ensure a leak-free installation assuming the mount is properly glued to the radio box.
How do they work? Simple, you permanently glue the mount to your radio box and slip on the Aeromarine seal. The drill size for the mount is 3/8". Below are some pictures demonstrating a typical installation.
| | |
| --- | --- |
| | |
| Throttle servo linkage using Aeromarine seal with Redline Pushrod Seal Mount. | Very clean installation and replacement of the seal couldn't be any easier since the seal itself is not glued to anything! |
In my opinion, these should be on everyone's parts list for their upcoming builds! A really neat and innovative product from Redline Performance Motors.
The Pushrod Seal Mounts can often be purchased on
RCBoatBid.com
from Redline Performance Motors or directly from their website listed below.
Happy Boating!
Contact Information: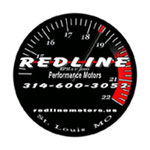 Redline Performance Motors

505  Brookneal Drive Saint Charles, MO 63304 USA Tel: 314-600-3052 Website:

www.redlinemotors.us

Email:

This email address is being protected from spambots. You need JavaScript enabled to view it.

ss is being protected from spambots. You need JavaScript enabled to view it <!-- document.write( '</' ); document.write( 'span>' ); //-->

 

Product Review Article...