Product Review Article ...by Len Williams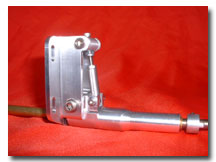 A look at the Gas Stinger Drive by Speedmaster...
As a continuance to our hardware reviews, this issue we will take an in depth look at the gas Stinger drive unit offering from Speedmaster. The Stinger unit is as simple as it is beautiful in it's simplicity and function. As with all the Speedmaster pieces we've come across, you will find a high level of quality in the fit and finish, and quality workmanship throughout.
There are several things that make the Stinger an attractive and desirable piece:
simple design,
it's light weight,
functionality,
adjustability, and
overall value rating.
The Stinger is designed for gas mono hulls and deep V's as an adjustable surface drive unit and makes a great companion to the Speedmaster rudder we reviewed in the last issue. The Stinger is specifically designed for use with welded cables in a collet drive setup. This makes it slightly different in that most drives on the market which are designed to accept both types of cable setups, either a square drive using a soldered ferrule or a collet drive. This may somewhat limit the market for its use but for those who do use a collet, this may be the perfect answer and an ideal setup on your boat.
The Drive
The drive comes assembled and ready to mount with quality stainless steel bolts, and washers with T-nuts. The barrel is bolted to a transom bracket with an integral trim adjustment, all made from highly machined aluminum with SS bolts and adjusters. The transom bracket has slotted holes, which allow approximately 1/4" of vertical adjustment.
The other desirable feature in the transom bracket is the hole for a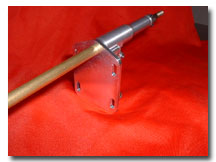 5/16" brass stuffing tube. When vertical adjustments are made it will keep the tube lined up perfectly with the barrel for trouble free alignment. This requires some free vertical travel for the stuffing tube forward of the transom inside the hull, so keep your glassing short in this area (or closer to the motor) to take advantage of this feature.
Loosening the jam nut on the trim adjusting bolt, and the barrel pivot axle nut, allows the adjusting bolt to be turned from the top for fine tuning of the trim. Once set, tighten the jam nut and barrel axle bolt. Vertical adjustments are done by loosening the 4 transom bolts and raising or lowering the transom bracket, and tightening them when you've found the desired height.
Inside the drive barrel, a flanged, perforated brass sleeve rides inside a flanged bronze oil-lite bushing, to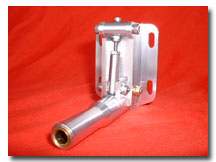 provide a friction-free bearing assembly.
Summary
If you are looking for quality, function, performance, and adjustability in a mono inline surface drive, the Stinger from Speedmaster may be just what you're looking for. As with all Speedmaster products, they are well thought out, engineered and machined to exacting standards and come complete with all the hardware required.
The Stinger comes in three versions, the Nitro Stinger (.187 dia. and .250 dia.) and Gas Stinger (.250) units, and retail from $39.95 to $59.95. They are relatively new products that have answered the demand from a certain market, but are certainly worthy of the highest level of scrutiny on your current or future R/C gas boat project.
Specifications:
Prop to Transom: 3.75" (including 3/16" clearance for cable windup)
Bracket width: 1.93"
Recommended mounting: centerline of shaft 3/8" from bottom of keel, puts the bracket approximately 1/16" from keel.