Product Review Article ...by Rudy Hilado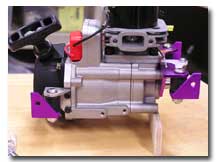 Newly redesigned engine mounts by Speedworld...
Back in Issue #5 I reviewed the Speedworld EZ mounts for the Zenoah G230RC and PUM motors. Since that review Dr. John from Speedworld sent updated motor mount for the PUM motor, called the Offset EZ Mount, for review.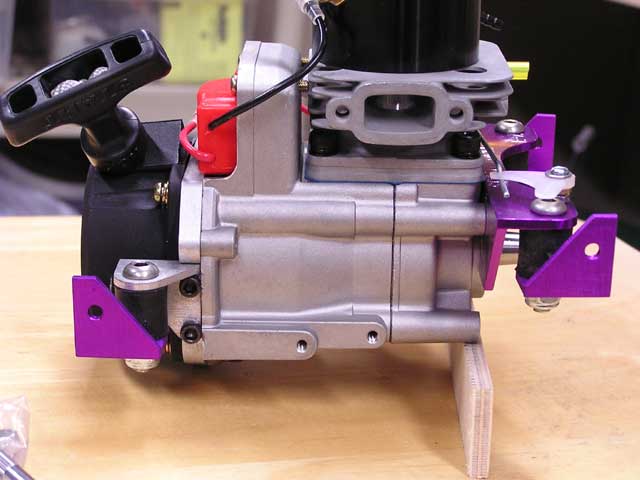 There are some nice changes incorporated with the new purple annodized mounts. The most significant change is the use of a new offset "L" bracket. This bracket allows standard bolts to be used to mount the bracket to the engine rail. The offset mounting hole not only allows access to the bolt with a hex wrench, but it permits the "L" bracket to be easily mounted with the base down without it hitting the motor bracket. This orientation allows the motor to be mounted lower.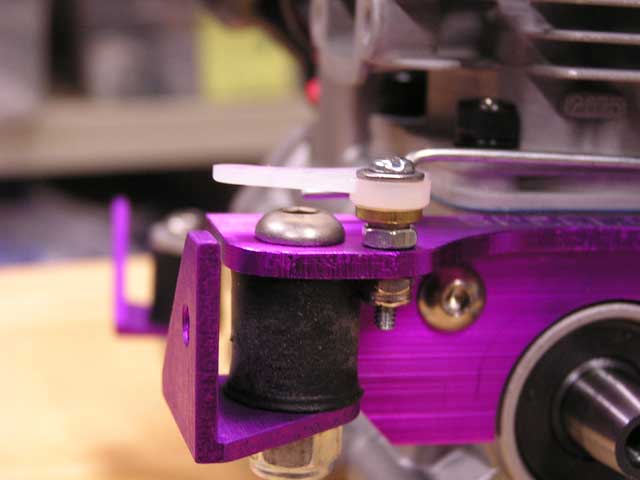 The same EZ access design allows the motor to be removed by accessing the 4 bolts from above. The bolts included with the mounts have been changed to a low profile stainless steel bolt. This effectively eliminates the previous clearance problem with the throttle bell crank.
A nice addition to the mount setup is a matching throttle arm. The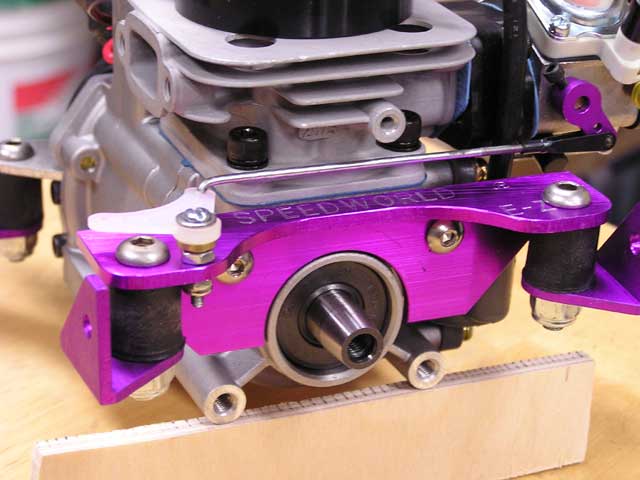 throttle arm fits perfectly on the carb that comes with the Zenoah PUM 231/260. It's held in place by a small 4-40 hex cap screw. The included throttle bell crank had a clevis that hooks right to the throttle arm. Unfortnately, due to the placement of the ignition coil on the Zenoah motor, the spark plug wire tends to bind the throttle push rod. Even with the throttle arm mounted as far out on the thottle shaft, the clevis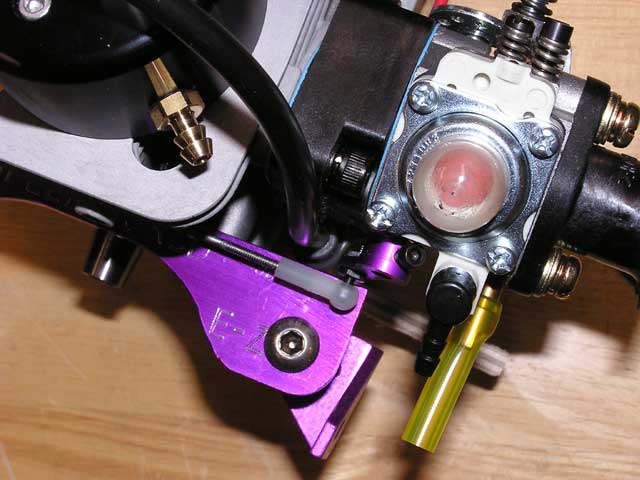 pinches right up against the plug wire. This tight fit can be easily circumvented by either mounting the ignition coil in a different location (using a coil relocation bracket) or by changing the clevis to a ball and socket connection. This provides for plenty of clearance around the spark plug wire.
The machine work and finish of the mounts continue to be top notch, including the nicely etched Speedworld logo on the front motor bracket. The mounting bolts, washers, and nuts are all stainless steel, except for the clevis and the throttle arm bolt.
The new EZ Offset mount is a fine improvement over the previous version and I'm sure they will find their way into many boat hulls!
Specifications:

Motors supported: Zenoah PUM, or Quickdraw
Cost: $55 + shipping
Contact information:
John Mantesta (aka Doc John)
Phone: 954-815-1914
E-mail: This email address is being protected from spambots. You need JavaScript enabled to view it.
Website: www.rcspeedworld.com