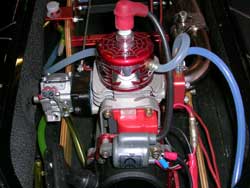 Add some "Bling" to your R/C boat! Extreme Customs has got what you need to put the finishing touches to your masterpiece!
Some of you might remember this custom Insane Generation 2 mono that I built a while back. You can see Part 1 of the build HERE and Part 2 HERE .
The owner (my brother) wanted it all dressed up and customized. He had all the hardware anodized, tuned pipe chrome, the works. I had done a small vinyl Maltese cross on the top of the water jacket to make it stand out a little more. This looked alright, but it seemed to be missing something! Well not long ago I discovered Extreme Custom Metal Polishing out of Whitewater KS. These guys are serious about their products! I contacted Dave Meeks, owner of Extreme Custom and told him the water jacket I was looking for and sent him a picture of the boat I wanted it to go in. Within about two weeks this beautiful custom water jacket showed up at my door. Now one must keep in mind that this is a custom part that was not in stock.


The water jackets are highly polished, anodized and etched with custom artwork. You can choose from the many pre-designed artworks or you can supply your own artwork. Extreme Custom will even help you design your own custom artwork if you want and there services are not limited to only water jackets. You can have just about anything made of aluminum customized with the same treatment!

I could go on and on about this company and their services, but they have a very nice website that details everything from the products they offer to the facility they operate out of. Browse the galleries and see many examples of the work they do, including custom boat parts and also custom motorcycle parts. The website link is at the bottom of this page.


I must say that I was more than pleased with the water jacket I ordered from Dave. It is absolutely beautiful and pictures simply do not do it justice! It was worth every dollar.

If you are looking to add that special touch to your boat, do not hesitate to contact Dave at Extreme Custom Metal Polishing!

Happy Boating!


Contact Information:

Owner: Dave Meeks
Website: www.extcustoms.com
Email: This email address is being protected from spambots. You need JavaScript enabled to view it.
Phone: (316) 799-2559






Product Review Article...