Product Review Article ...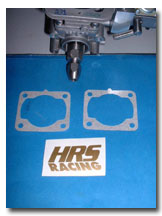 Ultra thin gaskets by HRS...raise the compression on your Zenoah without having to machine the base of the cylinder!
I remember reading one of David Sandoz's posts on Jim's R/C Boat Dock about a new revolutionary product he was about to release. The claim was that it would make the « impossible », possible for the Do-It-Yourselfers. Well, it seems that this product, the ultra-thin gasket (UTG), does just that. It allows one to modify a Zenoah engine for higher compression, without the use of machining tools.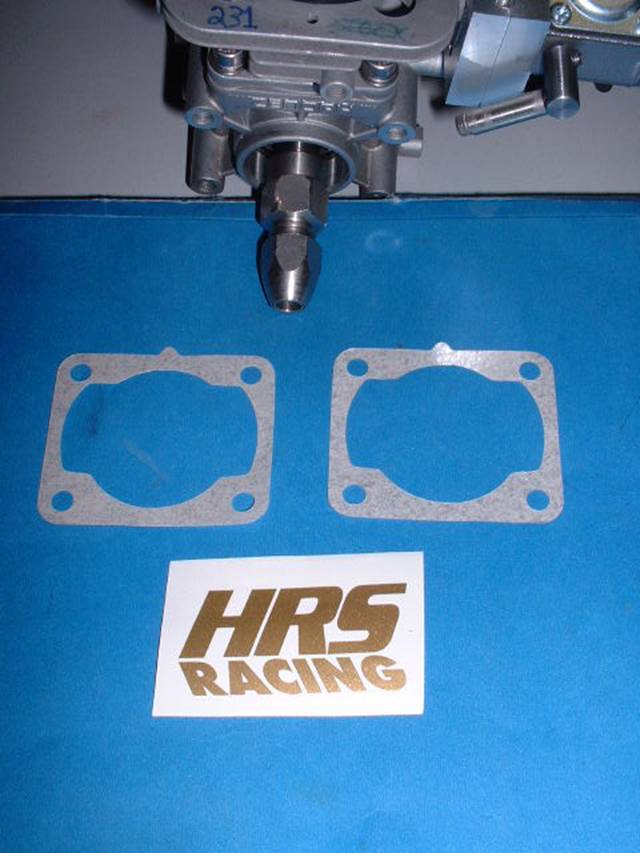 Raising the compression ration of the engine is one of the most essential modifications for higher performance. That in combination with adjusted port timing and flow enhancement usually makes for much higher performance engines. The traditional method for raising compression on the Zenoah hobby engines has been to remove material from the base of the cylinder using a lathe. This being the case, building a highly modified engine has often been out of reach for many hobbyists. Reworking ports and enhancing flow are things that can be done by hand using common power tools, but machining the base of a cylinder must definately be done using the poper machining equipment. This is where the HRS Ultra Thin Gaskets come in.
The HRS Gaskets are exactly 0.004in thick as opposed to approximately .020in for the stock Zenoah gaskets. If we take a Stock Zenoah G23 engine for example. The compression using the stock gasket is at about 120psi. Using one of the Ultra Thin gaskets would bring compression up to about 180-185 psi according to HRS. The nice thing about them is that you can also stack them to get the results you want. Example, using 2 UTG on the same engine would bring compression to about 160-165 psi, and using 3 UTG would take compression to 140-145 psi.
I installed a UTG on a Zenoah G231PUM engine to see how it would work out for me. The excercise was to see how easy it would be to do the install, and match the gasket to the engine and also to see if they would seal properly and stand the test of time. The engine I used was stock, so I took into account to .016in drop of the cylinder due to the UTG (as opposed to the 0.020in stock gasket) and adjusted my intake and exhaust ports in accordance to get the timing I wanted. This is something that MUST be taken into consideration, as the 0.016in drop will equate to approximately 2-4 degrees LESS in exhaust timing and 2-4 degrees MORE in intake timing. This can be undesirable with some engines, so the timing may need to be readjusted.
The install was simple. Anyone who has changed the gasket on their Zenoah before can do this. There is only one thing to remember here. These gaskets are 0.004in thick, so they are very fragile. You must be very careful when installing them, especially if you have to trim them to match your cylinder and base. The gaskets are easy to trim using a sharp exacto type knife. Oh, did I mention they are very fragile? For those who might feel a bit doubtful about taking on the task of replacing the gasket in there Zenoah, David offers an instructional video in which he does the install on a Goped engine. I ran about a gallon of gas through my engine and the gasket held up perfectly with no signs of leakage. One important thing to note however is that you should probably order more than one gasket if you intend to try them, as they are one time use only. I opened up my engine to inspect and the gasket literally fell apart. It is however easy to remove from the mating surfaces, but you will have to replace the gasket everytime you open up the engine. In any case, it is always a good idea to replace gaskets when putting an engine back together.
Well, that's about it! As promised by HRS, a quick and easy hop-up for your Zenoah engine! Well worth the price in my opinion.
For more information on HRS Ultra Thin Gaskets, check out this link. You will find all the technical specs on the product on this page.
http://home.flash.net/~davidsan/H&R_Products/H&R%20Products.htm
If you wish to order some gaskets, visit HRS Products' Ebay store at the following address :
http://stores.ebay.com/hrsproducts