Misc Article ...by Jeroen Pasman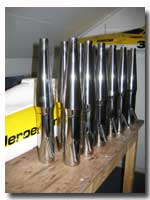 Jeroen Pasman, designer of the Jeroentune Silent Pipe tells us a little bit about how and why this project came to be...
Before we dig in the pipe story, I would like to introduce myself. My name is Jeroen Pasman (Jerome is more easy to pronounce) and I am well known as Speakerboy on Jim's R/C Boat Dock. I work in high-end audio equipment. That is where the nickname comes from. I live in the Netherlands, 20 miles south of Amsterdam, in a small town surrounded by ponds. Boating is pretty common arround here. I live with my wife and son Sam (almost 4 years old) and we're expecting another child in September. I wrote an article in one of the first MGB issues and also submitted a Jesse James cat set up. Since I have been in this hobby I have built and run several boats, from deep vees to hydros and so on. Right now I own an AC Lazer 45, an AC Blast Cat and a home built " Insane look-alike" SAW outrigger. I am very pleased with these models. They run like I want them to and here in Europe that's pretty hard to find.
The pipes
My second boat was used Jesse James Aeromarine cat. It was ugly purple and a 15 cc nitro engine was mounted inside. It did not take long for me to rip it out and put in one of the first (second hand) peanut motors in the Netherlands into this hull (the "peanut" motor is an older Zenoah G230PUM). Back in those days there were no pipes or mufflers for Zenoah motors so I had to work with a CMB nitro pipe. I communicated a lot with Paul Swaelen of PPB in Belgium. He supported me with my ideas on the Zenoah but had doubtfull thoughts about the Zenoah motor. He had bad experiences with a german MHZ look-alike motor and did not believed in gas back then. Anyway, we hooked up for her maiden voyage and the cat was running pretty good. Handling was great and speed was up to 45 mph. Paul was amazed and opened up his prop box. We ended up with a top speed of 48 mph and his confidence in Zenoah motors was born. A snowball effect started. It was raining Zenoah motors over the Netherlands and it was a time of trial and error. Paul built up his cat with Zenoahs and Quckdraws and reached unbelievable speeds in those days. One thing we knew for sure is that we needed a pipe for these motors and we start drawing models. After a couple of weeks Paul pointed me out to a welder who could build these custom pipes. Paul already had one of his pipe designs and my design followed a few weeks later. I used the muffled system from Paul to keep the noise level as low as we could. After some testing with different pipes we found out that my design was getting more rpm but lacked some torque. The peanut motors were not realy "torquey" those days and I took my pipe back to the design table and used Paul's pipe. These pipes are now well known here in Europe and still famous for their outstanding performance and great muffling. They respect the 82 DB limit.
2006
Meanwhile, I learned a lot about motors and about tuning from several motor builders and started out the Jeroentune motorline for the European boaters. Then I met a guy who has a professional welding shop and I hooked him up with an AC Lazer 45. He was addicted ten seconds later. I discussed building pipes with him many times and this year we started a new pipe design. The pipe we finaly came up with is not realy much different than the "old "pipe we run with
over here but the motors now develop more torque and my old design pipe does work perfect with the 260 motors . Also we played alot with the mufler, made an adjustable version to see how we could get better performance and used a spectrum analyzer to find out where the sound waves reflected and at what timing. We managed to find a sweet spot in the muffler to let the airflow bounce against its own cone to dampen the resonance. A kind of push-pull technique. It brought the sound pressure level down 3 db s but I was afraid it would hinder performance. After two test runs on water the db level was under 80 db and performance was like no other. The pipe is 1 inch shorter and the side stinger is longer than the first pipe.
The building
Then the building and welding started. We used stainless steel of 0.5 mm thick (thin). Instead of hard soldering some parts, we welded everything. But then the welder wanted to make it look like a jewel. I told him that it was just a model boat pipe, but he had this in his mind that it should look amazingly good. After making more than 25 molds for all the parts of the pipe and where to bend and roll etc, we found a way to weld them in a way that you could not see any welds in the line of the pipe itself. The only welds you can see is where the two cones meet. Still strong and no tension on the parts .
We sell the pipes with and without headers. This gives almost everyone a way to setup their boat with this pipe. The headers and flanges are comming soon. They are CNC manufactured and consequently pretty expensive, but worth the money. The first 25 pipes are built and about 10 of them are in use as we speak. The pipe seems to be popular in the states because the noise is so low and still a good performer. Dom Mauro is running an older version and is testing the new one. Even Andy from AC Model Boats has one and Marc Levac will receive one very soon. The waiting list is growing and so is the mailbox.
A side note
Before my welder and I start building these pipes we agreed to make NO proffit from
them. Our goal was to build a pipe that performs good but keeps the noise down. We have a wonderful hobby and we all want to keep it that way. Still, we have several problems to maintain this hobby and one of them is noise. We are loosing ponds everywhere because our boats are just to noisy. It's that simple. Here in the Netherlands we also lost a club pond because of noise and we are on the edge of loosing another. Keep the noise levels down and you will run your boats anywhere...that's our goal!
Best regards,
Jeroen