How-to Article...by Thomas Micheal Shuttleworth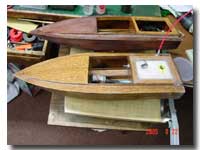 Learn how to make a radio controlled retrieve boat...
This article is written on something done out of necessity….
I started back in the RC Boating hobby after about a thirty (30) year absence. The difference in age is thirty years also, which means no more swimming, rubber rafting after the boats etc... I first tried an air cannon powered with co2 for portable use to propel a tennis ball (with string attached to it to pull the boat back in) to the dead boat. This worked as far as getting the ball in the vicinity of the boat, up to about 300 feet, but wasn't really accurate & the paraphernalia was heavy & cumbersome. I saw a fellow with a Zig Zag racer at the lake & I thought to myself, "what does he think hes going to accomplish with that?" Well after I saw it work I thought to myself this thing has potential. I bought one shortly thereafter & used it for a while. The little boat is used to drag a line or string to a dead boat and loop around it. Then you reel in the line (attached to the retrieve boat), and along comes your dead boat also! The big drawback to that boat was that it was always getting water in the electronics. I purchased another one with the same results, so I decided to build a retriever that had the electronics sealed up to the best of my ability so no water could get in. This is what I came up with. So far it has worked since April without fail, not only for retrieving my boats but most everyone else's at the lake on Sundays also. It is a Dumas Short Stuff kit boat that I won as a prize back in 1975 at the IMPBA internats in Indy. I built & sheeted the boat and it sat on the shelf for almost 30 years. This retriever Idea had been in the back of my mind, so I asked my son one day about the little boat, as we had moved 10 years prior and I thought I had thrown it away. Well he had saved it and brought it over one day so I had finally found a use for it!! That's some of the history of Little Brownie. I used the motor, shaft, prop assembly and rudder assembly from the Zig Zag. I used a Dynamite speed control which has reverse and is a no no for a retriever! Reversing will tangle up the line in a New York second!! It can be trimmed out on the throttle control however so the reverse doesn't function. I also used a receiver, a 2300 mA NIMH battery pack and a little brass hook for the fishing line on the lower transom.
I made a lexan radio lid with a charging jack hole so it can be charged at the lake without taking the cover off the boat. It will make ten or so retrieves before needing a charge, depending on how far the boat has to travel to do its thing.I not only like this boat but so does everyone else in the club, so I guess it wasn't a wasted effort. I have a larger one with a battery drill motor in it for power but it eats the charge on one retrieve & it is slower. The little boat is easy to carry and is just one handy item on boating day. It also gets more runs than most of the gas & nitro boats! Cost is about $40 for the wood kit, and I'm sure Dumas sells a hardware kit for the boat. The speed controller is about $39 dollars. The one I used was a closeout and I got it for $29, battery about $15, and you need a receiver. The special items are the thru the bulkhead fittings for the motor wires. Those could be fabricated out of 1/8" stainless welding rod. The silicone boots used on the rudder shaft were homemade by a fellow boater. I think the Aeromarine seal would work also, or something similar.