Company Spotlight Article ...by Wayne Rathbun

An interview with Remy Haynes Jr of Aeromarine Laminates...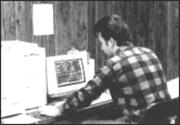 Remy Jr., being only in his early to mid thirties and in a business that supports him and his family is not an easy task to perform. He treats R/C boating as a business, so treating customers with the respect they deserve is an art he values greatly. He is no stranger to the R/C boating hobby or racing. He and his dad, Remy Haynes Sr, have been involved with boats longer than some R/C boating businesses have been in business. Remy Jr. remembers, at the ripe age of 13 and 14, attending R/C races and going up against drivers more than three times his age and twice the experience. I am sure he has taught many more experienced drivers a thing or two, and been taught a few lessons in his time.
Editor Note: I have dealt with, met personally, and purchased items from Remy Jr of Aeromarine Laminates for many years. The first boat I ever purchased, built, and raced was a 50" Apache. I still have and race the boat today, along with a 50" Sport X Unlimited Hydroplane. That has been over 7 years ago.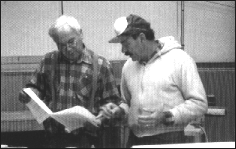 MGB: Remy, why did you pick R/C boating as a career?
Remy: I did not really choose it. It chose me. That and with a little help from my dad, Remy Sr. and his partner, Peter Calimano. Who, I might add, is one of the best mold men in the country.
My dad started building full size boats, a Super Boat, for a company in New York. He also built 35' Yachts and did some moonlighting for some molded aerospace parts for Grumman Aerospace. Adding to his increasing knowledge of mold and machine work, he did some drone work for the U.S. government.
We started in nitro boats in the mid eighties. Then, in the early nineties, we got their started in gasoline weedeater powered boats. That is when Aeromarine Laminates took off. Gas was just coming into its own and we both saw it advancing, as it has over the last 10 years or so. Concisely, they saw into the future and were ever so correct.
Aeromarine was the first company to offer a radio-controlled catamaran (built near scale) exclusively for gas. Remy Jr. remarked, "The first cats we built were dogs…. "Rough, rough."
MGB: How many people do you employ, what is the range of experience in years, and what fields are they best qualified?
Remy: We have seven full time employees and hire temporary workers during the busiest times of the season. I am not too sure on the total years of experience but just between my dad and his partner, Peter Calimano, there is 50 plus years of modeling, machining, and molding experience.
MGB: Take a wild guess at the years, Remy.
Remy: I hate to guess but since you are forcing me…80 plus.
MGB: Any new hulls in the making or is it top secret?
Remy:Based on the popular Challenger series hull, we are planning a new offshore class hull. We are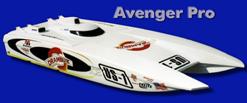 looking into a brand new hull design for glow though and that is all I can say about that at this time. I know you did not want to hear the glow word but if things work out… Well, you never know.
MGB: Very quick, what is your personal favorite hull?
Remy: My favorite hull is the Avenger hull because it is a skater style hull.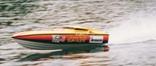 MGB:What is the most popular product that you have and sell?
Remy: Our most popular product is our Challenger 48" and 43" hull along with the new Avenger Catamaran. When you are looking for a new hull, we offer package deals on all our hulls we build. Hull and hardware packages, if bought at the same time, could save you money, time, and headaches. The hardware products are in stock on a regular basis. Having what you need is generally not a problem because they are built and designed in house.
MGB: What are your personal feelings about any of the current R/C organizations and do you have any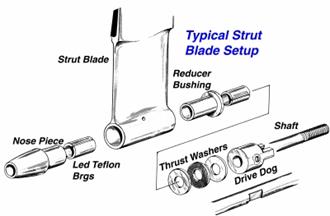 gripes of any rules or regulations? Anything goes here so have at it!
Remy: There will always be issues within any of the organizations, no matter which one I would talk about.
I would like to see them update the way they pass information to their current members and take a harder look at the current gas rules and regulations.
I would also like to see them do more to promote themselves and the hobby. I have volunteered my services a number of times by wanting to add flyers to every boat I sell.
MGB: What are your warrantee policies and/or product support?
Remy: Aeromarine Laminates is the same as most all other reputable R/C companies that have stood the test of time, "I do not warrantee abuse!" If you order a boat and it arrives at your home, if you do not like what you see, call me and I will be more than happy to send your money back after I receive the product and inspect it for any damage do to running or abuse.
I will lend a helping hand to any one that calls on me. Even if you have a question on a product bought from one of my competitors. Helping others with their leisure pursuit is one way I can improve upon the hobby. The surface of this sport has not even been scratched yet, it is growing leaps and bounds.
MGB: What is the best way to contact you for product information, pricing, and/or ordering? What is your preferred shipping method, would you ship over seas, and what is your average turnaround?
Remy: Feel free to contact us Monday thru Friday, 8 am to 5 pm Eastern time at 302-628-3944 or email me at This email address is being protected from spambots. You need JavaScript enabled to view it..
Website: www.aeromarinerc.com
The shop address is:
Aeromarine Laminates
Rd.4 Box 100 Rt.13
Seaford, Delaware 19973
We use FedEx, UPS, and the U.S. Postal Service, all for shipping worldwide.
We also have an overseas licensed Aeromarine Laminates dealer; Jotika and their web site is http://www.jotika-ltd.com. They are big into scale ships.
Most hardware orders take 7 days, RTR (ready to run) boats take 2-3 weeks to complete, and hulls take 7-10 days to ship.
"We hope we meet you at the lake. And wish you well in the spirit of the race."
Remy Haynes
WR.